Stonewall newspaper is here again
Stonewall newspaper is back again after being absent on the market for 1.5 years because of lack of financing. New issue came off the press and is available for the readers.
28 pages of this colourful newspaper have issues of LGBT, healthy life, equality, tolerance and diversity in the centre of attention. In addition, this title is aimed at male part of the community mostly.
"Stonewall is a newspaper about LGBT community and activism. It's aimed at people who care about all that happens around them who want to change our country and are not afraid to change themselves. We are not awkward with talking on complicated subjects be it migration, HIV, sex or violence in partnership. It's important for us to talk on equal grounds with our readers, without morals or instructional tone," underlines Stas Mischenko, Stonewall's editor in chief.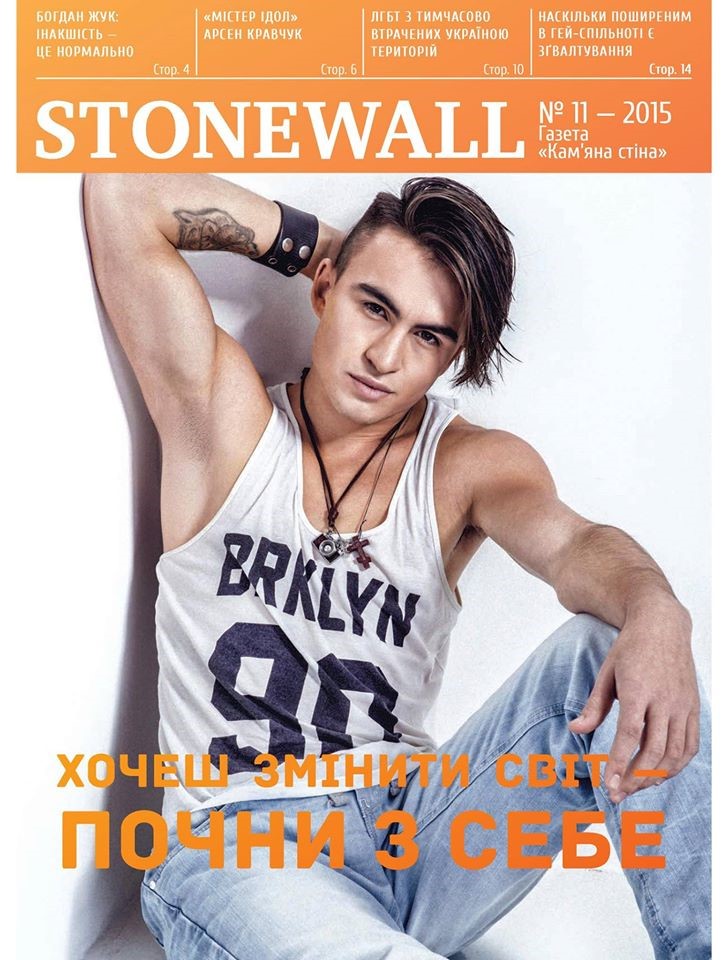 New issue of the newspaper contains interview with Bohdan Zhuk, Sunny Bunny coordinator, the evidence of LGBT life on temporarily occupied territories, research of rape problem in gay community, an article about social theatre art, travesty divas opinion regarding the best way to calm a homophobe down, and lots more.
Read also: Arsen Kravchuk: I am Mister Idol, not Mister Sexual Partner
Stonewall's editors hope that the newspaper is back for a long time. "We expect that next year our newspaper will appear as usual. Actually, Stonewall is almost a magazine, younger brother of Odyn Z Nas title that was a standard-bearer in LGBT journalism of our country and played important part in establishment of the community," tells Stas Naumenko, the founder of Stonewall. "It is no coincidence that the newspapers got the name of famous gay bar that became the symbol of LGBT community fighting for its rights. A long way of acknowledgement of LGBT as fully legitimate part of the society lies before our country and we want to do out bit in making these days come sooner."
Stonewall newspaper started to come out in December 2012. 11 issues saw the light of day. Alliance for Public Health (known before as International HIV/AIDS Alliance in Ukraine) supports the project, as it has done before.
New issue is spread via HIV service projects of Alliance for Public Health and network of Queer Home communicative centres in most of big cities of our country.
Currently two printed LGBT-themed editions come out under the aegis of Gay Alliance Ukraine: Gayd! subcultural magazine and reopened Stonewall newspaper.
Автор: Kolya Camouflage