We opened LGBT centers of new format in four Ukrainian cities – join us!
UPO "Gay Alliance Ukraine" under the support of the Swedish International Development Cooperation Agency (SIDA) opened dour community centers of new format for LGBT representatives and everyone who supports us. First priority task of these centers – strengthening and developing Ukrainian queer community.
The opening of the centers took place simultaneously in Odesa, Zhytomyr, Kryvyi Rih and Kyiv. A new format received its own name – Queer Home, which underlines a homely atmosphere created by coordinators for its visitors.
Every Queer Home has its own, unlike any other program, as it is created according to the needs and wishes of the local community. There are no obligatory activities – only what is really interesting for the guests, which are gladly engaged in organizing and conducting events. In the centers have already taken place evenings of short films, kvartirnik (home concerts) with a guitar, cooking master classes and, of course, discussions on politics, which are not avoidable today.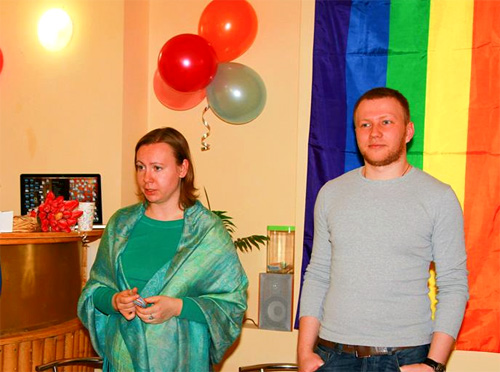 However, should you desire something special and non-standard – for example, to make soap together – you are always welcome! You just offer – and we include it in the program, as well as invite friends.
Queer Home – is an opportunity to meet new people, socialize and do something together. Most importantly – to do this offline. And also Queer Home – is an absolutely safe space where all the different forms of your identity are accepted.
If you live in one of the cities where Queer Homes work, we invite you to join our crowd. In order to learn the addresses of the centers and schedule of the upcoming events you can contact our coordinators:
Odesa
Nina 050 330 35 95
Anya 093 455 55 91
Kryvyi Rih
Borys 050 353 96 53
Zhytomyr
Maksym 093 524 52 85
Kyiv
Kostya 050 014 81 48
Press service of UPO "Gay Alliance Ukraine"
Автор: Gay Alliance Ukraine