UPO "Gay Alliance Ukraine" takes activists to Carpathians
Within the framework on strengthening and developing of the LGBT community UPO "Gay Alliance Ukraine" will conduct a six-day camp for activists. Outdoors.
16 representatives of the community from different regions of our country will meet together in the end of May on the river bank of Cheremosh in the Carpathian Mountains to work and relax. Preference will be given to candidates from the cities, where our community centers works – Zhytomyr, Kryvyi Rih, Odesa and Kyiv. Thus, the boys and girls will have an opportunity to stay in touch after the trip. However, it does not mean that volunteers' applications from the other Ukrainian regions will not be considered!
The main task of the camp is to build a team of strong and active people. The camp program will include both major training sessions and entertainment activities, such as games, hiking in the mountains, and (optionally) – rafting on mountain rivers.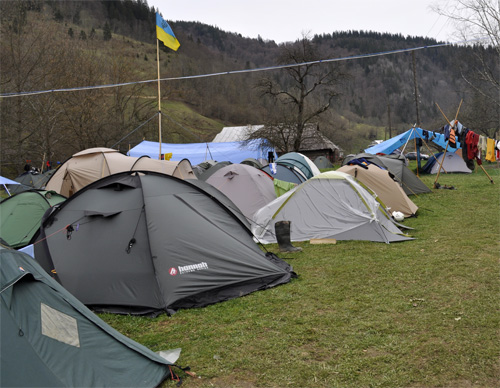 The participants of the camp will live in tents, cook meals on a fire and wash with the water from the well like real tourists. However, the fans of comfort should not get scared: they will be able to attend the shower and bath nearby.
The highlight of the program will be climbing to one of the highest mountains of Ukraine Pop Ivan (with height of 2022 meters (6,634 ft) above sea level). On the peak of Pop Ivan are left ruins of the old Polish Astronomical and Meteorogical Observatory. It is commonly called "White Elephant" – due to its shape, which is formed by snowy winter.
Tourism is impossible without evening gatherings around the campfire with songs and stories. We are planning for our participants not only interesting and educational program, but also fun pastime. UPO "Gay Alliance Ukraine" hopes that this format of training for activists would be fruitful and become a good tradition in the future.
If you are interested in the camp and willing to become its participant please send your application to e-mail: [email protected]. In your letter please write about your motivation and provide reasons for your trip to Carpathians with us.
Press service of UPO "Gay Alliance Ukraine"
Автор: Gay Alliance Ukraine