Have I ever asked myself about the coming out? I have never asked myself. I have never wanted to keep it in secret, to change it or to reject it. I have always known the answer because I have never had the question. Despite all other attempts, I understood who I was and what I wanted.
Regarding the people around me. There have never been people around me with who I am betwixt and between. That is why the level of openness between us was always high. Nobody from them has ever showed zero tolerance, has ever reproached me or certainly has ever renounced me.
We have always had warm relations within the family. Well, my mother is my friend. We could confide each other and discuss whatever we wanted. But I did not hasten to reveal this part of myself. Not because I was afraid (of course, I was!). I merely did not feel the need. I became free and independent early on, so my personal life was open as much as I wanted that.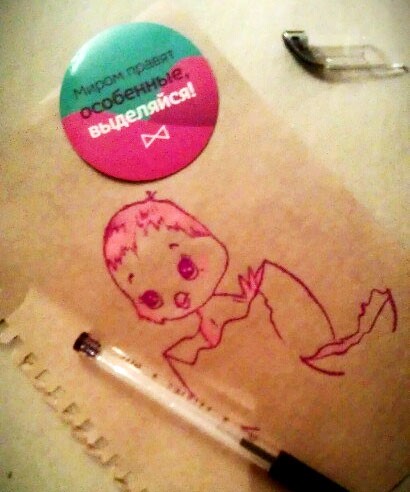 This painting is a self-representation of the author
Love has become a catalyst for disclosing it (as a catalyst for everything in the life). I did want to introduce my beautiful one to my mother because it seemed to me that it was a disrespect to hide her. I had also to deal with common questions as we had a serious relationship at that time.
Was I meticulous in the choice of words? Yes. Did I try to predict how she would react? Certainly. Also, there was fear. I merely came up to my mother and said that we had to talk. I said I felt love, but the reason was a girl.
Mother squeezed my hand and said that the most important for her that I would be happy. That she would always stand by my side and was ready to support me.
What did I feel? I was proud of her being like she was. I felt freedom. I felt happiness.
From that moment on we can talk about everything. She is interested in my girlfriends, my activities and my personal matters. And I am glad about it and sincerely share it with her. She is the best!
So, life opens up when you do!:)
Nastya, the city of Kharkiv
Автор: Gay Alliance Ukraine