Celebrities, their beloved gay brothers and their beloved lesbian sisters
When in the past somebody thought about a celebrity who had LGBT sibling, it was mainly about Madonna.
The relationship between the "Queen of Pop" and her gay brother Christopher Ciccone was difficult. First, he worked with Louise as a dancer, stylist, director and interior designer of her numerous houses. Later they had words because Christopher published a book about his sister, accusing her of a lie and other vices; later they became completely estranged from each other. It seems there are still tensions between them: Madonna is still angry with her brother for calling her cheap and narcissist lady; that he described her ex-husband, the film director Guy Ritchie, as an ardent homophobe, and spoke negatively about her devotion to Kabbalah.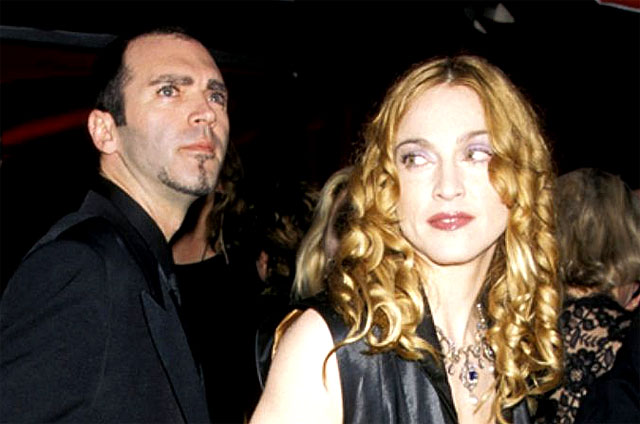 However, there have been many other celebrities over the last decade, who work in various genres and in different areas and who are proud about their gay siblings, and not at least that's why they frown at homophobes. Let's get to know some of them. But I would say that is not an acquaintance. The persons who are on our list, don't need to be introduced. But maybe some of you don't know what problems related to LGBT rejection they had to deal with, being themselves heterosexual and cisgender.
Max Carver and Charlie Carver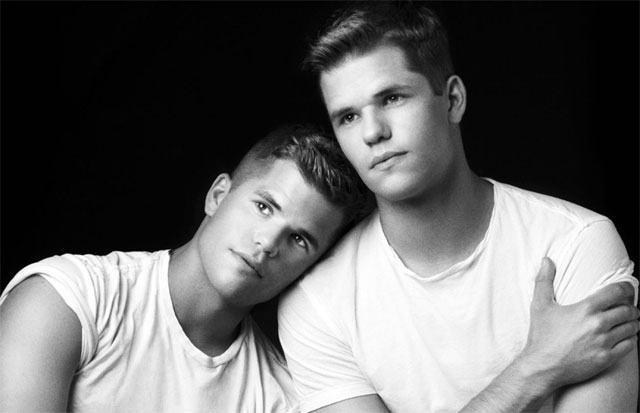 One of the sensational coming outs in 2016 was done by the actor Charlie Carver (ru), who has a heterosexual identical twin brother Max. The question about different orientations of identical twins is very interesting scientifically, but we aren't going to talk about it now. Charlie and Max Carver are like two peas in a pod (clearly, they are identical twins, and it shouldn't be the other way a priori, but at their age, there can be seen some differences even between monozygotic twins). The brothers often played twins in different television series, starting with their first appearance in Desperate Housewives and ending with relatively fresh Teen Wolf. After Charlie's publicly coming out Max supported him and wrote on Twitter, "Love you always".
Jarron and Jason Collins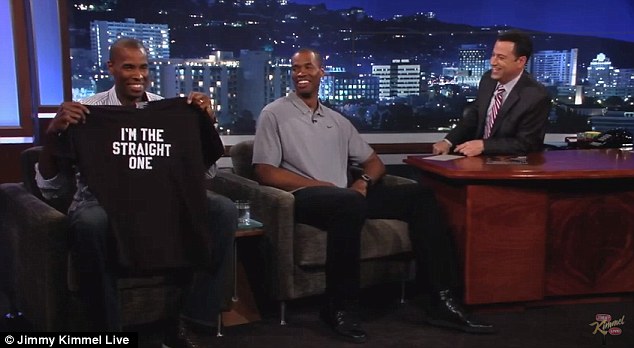 There is another story about twin brothers, where Jarron is heterosexual, and Jason is gay. It is interesting that these brothers, like the Caver brothers, have chosen the same career path for both of them – they both are amazing basketball players. The brothers played in the NBA, but for different clubs.
Jason Collins became the first openly gay in the National Basketball Association. Jarron expressed strong support for his brother's coming out. He often appeared with Jason at charity events and in different TV shows, for example, in Oprah Winfrey's piece. Once he got a gag gift – "I'm a straight one" T-shirt on Jimmy Kimmel Live; just to distinguish between the brothers.
Colton Haynes and и Joshua Haynes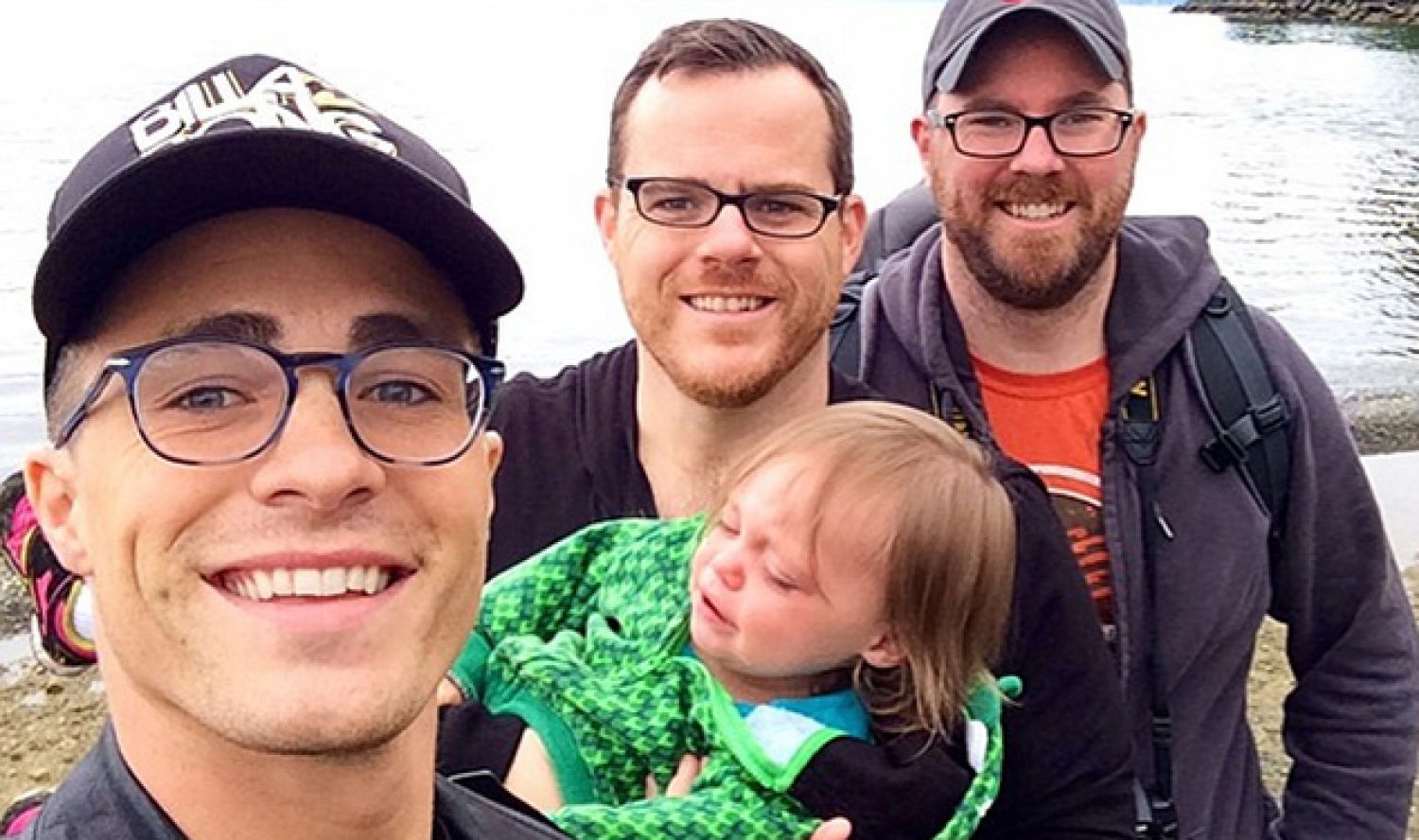 Protection of LGBT rights is of importance for the star of the TV series Arrow and above mentioned Teen Wolf Colton Haynes. Because he has a gay brother Joshua. And Joshua, in turn, has a lawful husband Scott and a daughter Wren, who really loves Colton and calls him "uncle Coco". So cute!
Chris Evans and Scott Evans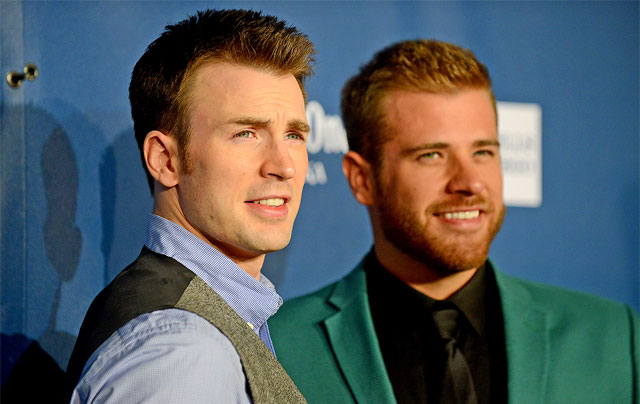 They can't be called a dynasty yet, but both brothers are actors.
Chris is heterosexual. He is better known, especially after becoming famous as Captain America in the films about the captain himself and in the movie franchise The Avengers, where this comic hero was included by the well-known Marvel. Scott is gay. He didn't achieve such a success, but he proved one's worth as an actor in different TV series. He played a gay police officer Oliver Fish in One Life to Live soap opera. We could see him playing in Law and Order and White Collar.
Chris Evans has always been vocal that same-sex marriages should be legalized in the US and LGBT should be protected from discrimination. In his interviews he told that he was down with the gays, because he mostly was hanging out with his brother gay buddies, who were f–king hilarious, and the funniest people he knew.
Catherine Zeta-Jones and David Jones
The brother of the famous Welsh actress, an openly gay David is an executive at the production company, which sponsored the films of very famous directors, including Martin Scorsese. Her second brother Lindon also works at this company.
Colin Farrell and Eamon Farrell
The Hollywood star of Irish descent Colin Farrell has proved to be a real apologist of the legalization of same-sex marriages. For example, thinking about his open letters in the press and plea to his fellow countrymen asking them to go to the referendum and vote for the marriage equality.
The name of his gay brother Eamon was in all his letters and pleas. Colin was a groomsman at Eamon's wedding two times: first time when Eamon got married abroad and later when he registered a civil partnership in his native Ireland. Quite possible that Eamon and his husband would also like to solemnize their marriage in the homeland, and Colin would be happy again about his brother and would tell how proud he is about his brother.
Kevin Smith and Donald Smith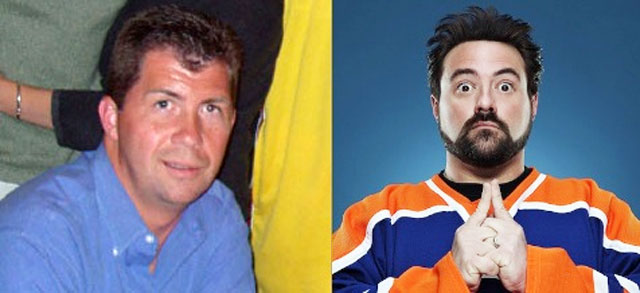 "I know my brother, he's a great guy, who goes to church and doesn't screw anybody over. And yet he's still got some religious yahoos and politicos over to the side going: "Change your ways or you're going to hell," famous comedy actor and filmmaker Kevin Smith tells about his brother Don. Yes, that very silent Bob, who is about Dogma and Clerks. "Stay out of my brother's bedroom, buddies", Kevin advices to the persons who try to mess in Donald's life.
Anne Hathaway and Michael Hathaway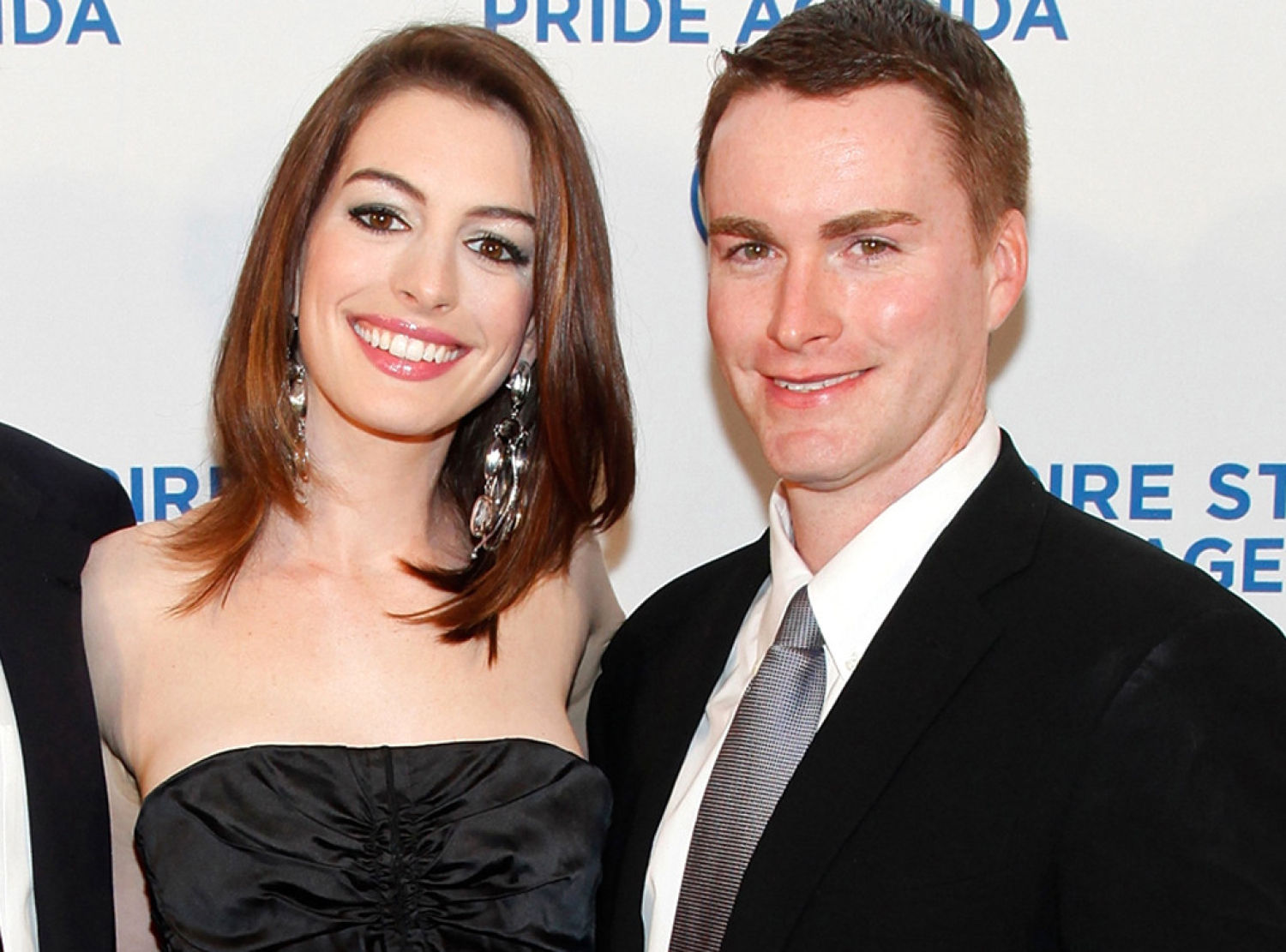 In 2010 the holder of Oskar Anne Hathaway said in the interview for the magazine GQ, why her family and she left the Catholic Church: "Well, my whole family converted to episcopalianism after my elder brother Michael came out. Why should we support an organization that has a limited view of my beloved brother?" (FYI: Episcopal Church of the US blesses same-sex unions and ordain openly gays and lesbians as bishops). In the same interview the movie star told that the wedding of her brother Michael and his partner Josh became one of the most inspiring moments in life.
Ariana Grande and Frankie Grande
The young pop singer Ariana Grande and her gay brother Frankie, a social media star, are best friends. Some days ago Ariana told that she would release a new unisex fragrance or, as it has been said now, gender neutral scent, which would be named Frankie. Guess, after whom.
Ariana Grande, like Anne Hathaway, left the Catholic Church for the same reasons. "When my brother Frankie was told God didn't love him, I was like, "Ok, that's not cool." The church says SpongeBob Square Pants is gay and he's a sinner and he should burn in hell. And Harry Porter was a sin. And working women. I was like "Enough! First the gays, then SpongeBob and now Harry Porter? Get out my house".
Adam Levine and Michael Levine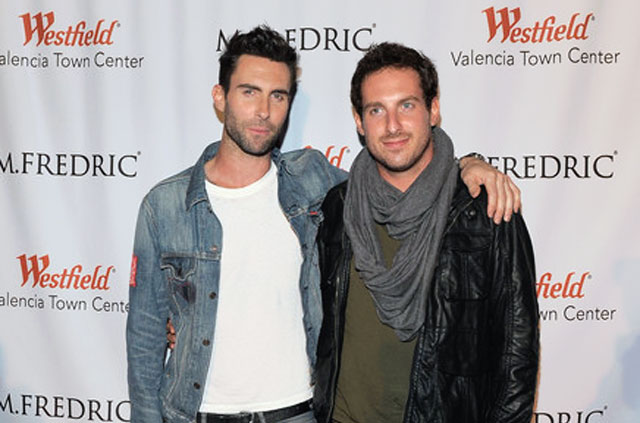 Adam Levine is the frontman of the famous band Maroon 5. He often mentions his gay brother Michael in his interviews and has been telling many years that that's the brotherly love what made him look at the problems of LGBT as his own ones.
"I can single-handedly dispel any ideas that sexuality is acquired", he said in 2011. "Trust me, you're born with it. My brother Michael is gay, and we knew when he was two. We all knew." When somebody doesn't like this number, we can assure that at the age of two it is possible to see the difference between the children. For example, when a child plays with "other" toys, not with those it is supposed to play. So, we believe what Adam said.
Jordan Knight and Jonathan Knight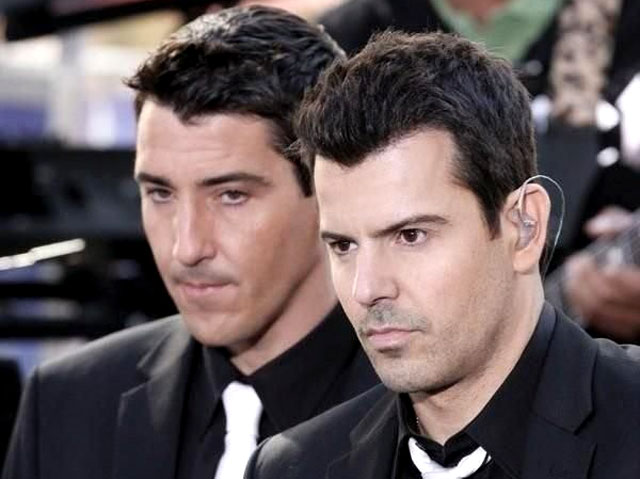 Even those people who were too small in the 1990s to be interested in music, have heard about a popular boy band of that decade New Kids on the Block. They appeared before Backstreet Boys and of course before One Direction.
The brothers Jordan and Jonathan Knight performed in this band, and girls threw themselves at their heads. But the thing is Jordan probably liked it, but Jonathan apparently didn't. It was the time when a coming out for a being participant in the boy band was deathlike. That's why Jonathan came out of the closet only in 2011. He can hardly be blamed for "being late".
Read also: Guys from a boy band and their boyfriends (ru)
Ryan Kwanten and Lloyd Kwanten
"Lloyd was probably about 18 when he came out, and I can wholeheartedly tell you that from the day that he did, he was a changed man for the better," Ryan Kwanten told to the magazine Advocate.
Ryan, who acted in Don't Fade Away and Legend of the Guardians: the Owls of Ga'Hoole is the only actor in the family. His brother Mitchell is a musician. And his brother Lloyd is a doctor. According to Ryan, the brother didn't have any problems with coming out to the relatives because the parents "always encouraged an open channel of communication". So, they talked about everything, took note of it. That's all!
Richard Gere and David Gere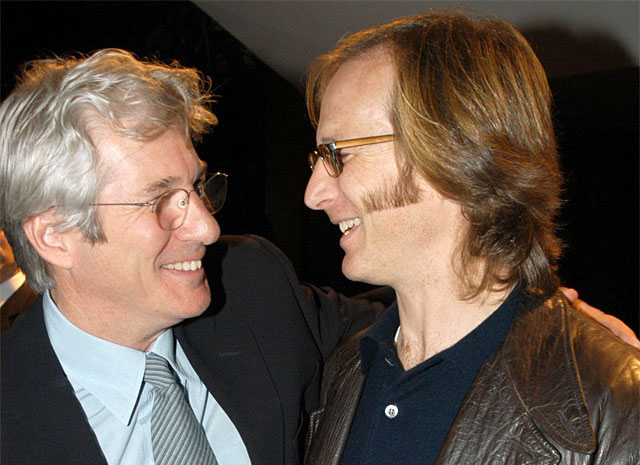 The star of Pretty Woman and other memorable movies has been an active supporter of LGBT since the time it wasn't that common to talk about it much. But Richard Gere talked about it and rather insistently. So, he was often suspected in homosexuality himself.
Actually, Richards's brother David is gay. David is an AIDS activist and a professor of university in Los Angeles. Richard always called David his encourager. "My brother is gay and he got married in that brief period when gay marriage was allowed in California," Richard told in times of fight for the marriage equality in the State, times left behind thanks to the US Supreme Court. "He has two great kids and is a wonderful father".
Chloë Grace Moretz, Trevor Duke-Moretz and Colin Moretz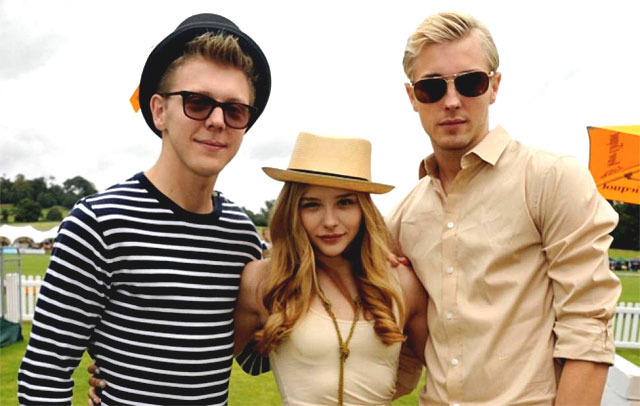 To have one gay brother it is just the tip of the iceberg. But when you have two gay brothers, like the American actress Chloë Moretz, it's quite a different story. Actually, Chloë has four elder brothers, so there are two straight ones among them.
In 2011 Kick-Ass and Dark Shadows star told that she wasn't going to condone homophobia because Trevor and Colin had suffered enough because of her. "I have two gay brothers and two straight brothers, she told to the fans on Twitter. And my gay brothers were treated horrifically as teenagers because of homophobia. I will delete you and I will block you, if you ever say anything bad about my brothers or gays in general".
Cyndi Lauper and Elen Lauper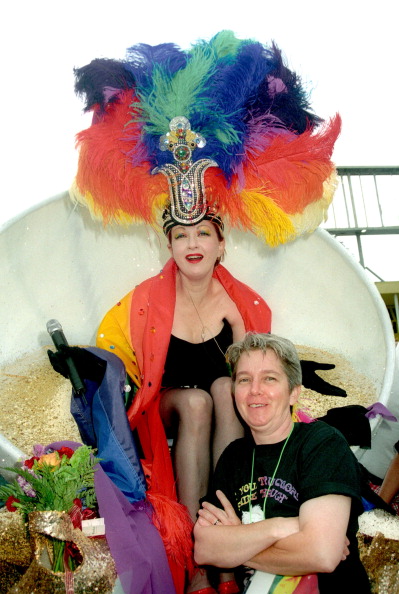 Let's not talk about brothers! Let's finally talk about sisters! It would be a sin to miss one of the brightest icon and LGBT activists, quite a straight singer Cyndi Lauper.
Her sister Elen is lesbian. She lives in Los Angeles, practices healing, is involved in charitable activities, and helps Cyndi with the shelter for the homeless LGBT youth True Colors which Cyndi opened. "My sister is part of the community, and my friends are part of the community. I live among my people, Cyndi stated many times. Through my activity I want to shut up those who speak out against these people because they are not right".
Lena Dunham and Grace Dunham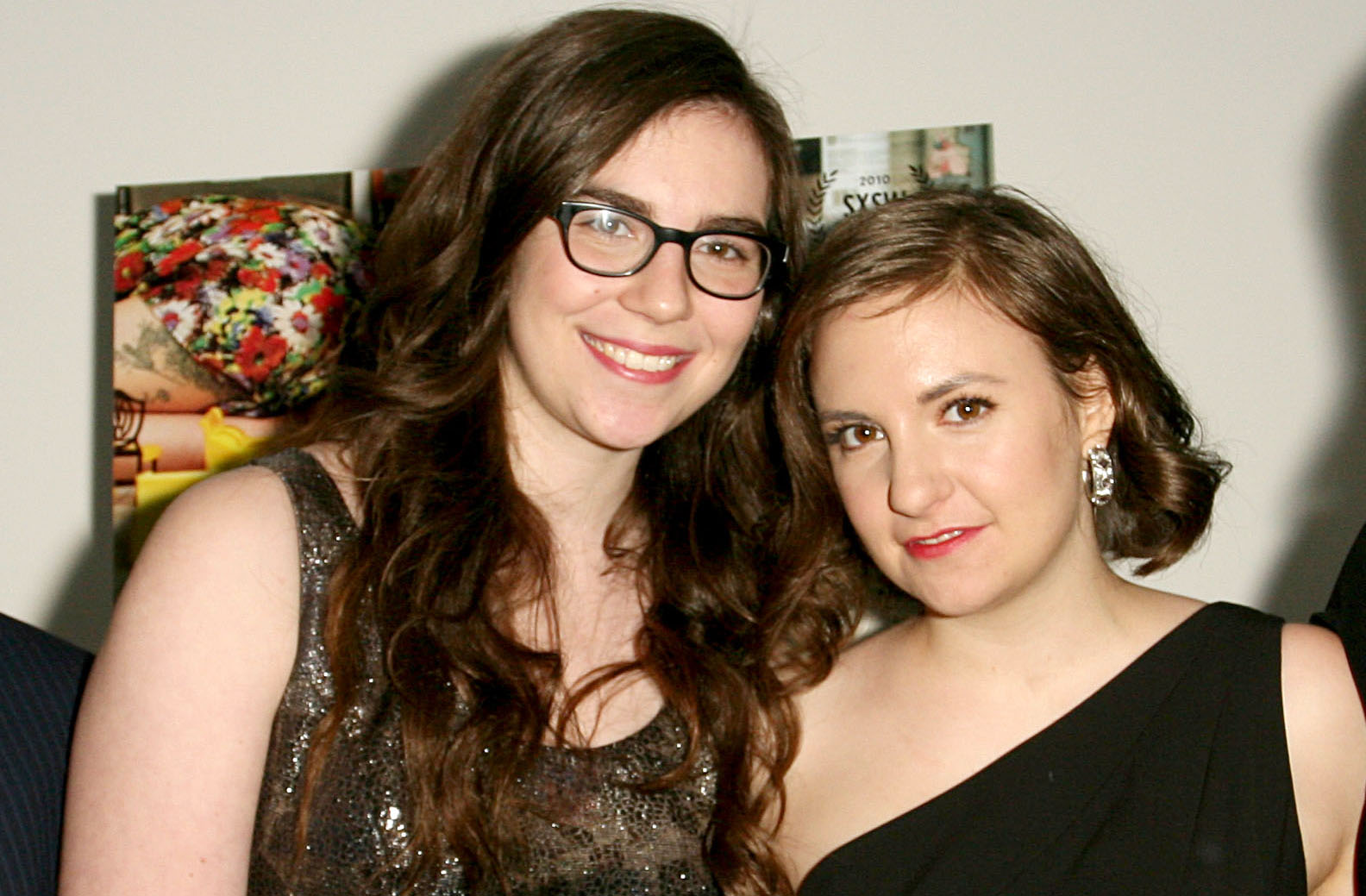 Out of the box actress, producer and director, creator and star of the television series Girls, a feminist, and a nice girl Lena Dunham told some years ago that she wouldn't marry her boyfriend. This is not because they are against the marriage, but because her lesbian sister Grace can't do that. Fortunately, the obstacles were removed in the summer last year, so nothing prevents Lena and her boyfriend, musician Jack Antonoff from going to the marriage bureau. In one of the interviews Lena told about her sister coming out, "It was actually a huge disappointment for me, when I came of age and realized that I was sexually attracted to men. So when my younger sister came out, I thought, Thank God, someone in this family can truly represent my passions and beliefs."
Alexandra Paul and Caroline Paul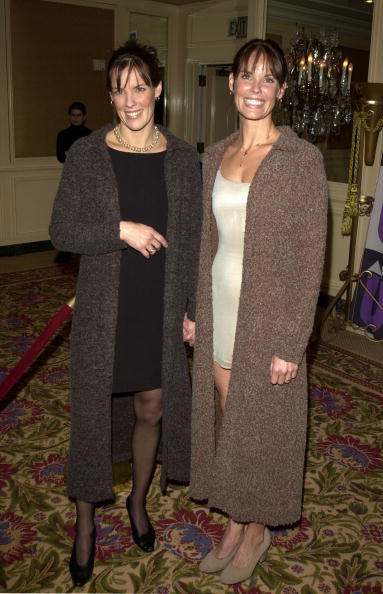 Another pair of twins with different orientation, this time female twins.
The actress Alexandra Paul, the star of the legendary action drama series Baywatch, who played in more than 70 films, has a twin sister Caroline. As you have probably guessed, the sister is lesbian. Caroline, unlike Alexandra, hasn't been in the films, but she has written three books; in one of her book she told how to be a female firefighter and in addition an openly lesbian in San Francisco.
"I have advocated for gay rights – it is an issue close to my heart. I have played 4 lesbian roles over the course of my career, told Alexandra Paul. I am a big supporter of marriage equality and lobbied to defect an amendment, which wanted to outlaw marriage equality for gays".
M Lamar and Laverne Cox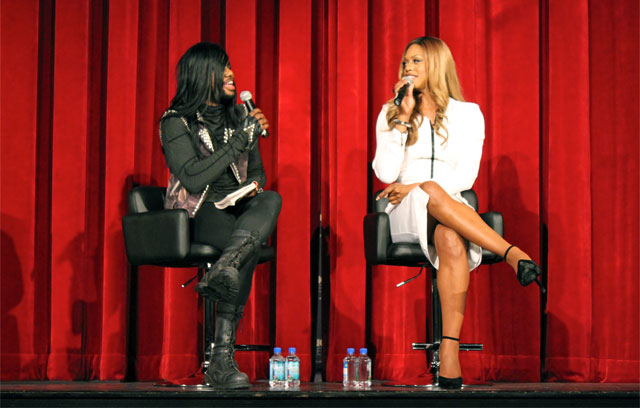 And here is one of the most interesting pairs of the identical twins. Both were born boys. But now only one of them is a boy.
Laverne Cox, a television series Orange Is a New Black star is nowadays the most famous transgender actress. She is more popular than her musician brother Lamar, who performs under the nickname M Lamar. There is an episode in Orange Is a New Black which shows the life of Sophia, who plays Laverne, before her transitioning. "That" Sophia was portrayed by M Lamar. Before the actress revealed it in the interview, the audience was so much fascinated by the resemblance of the actor that the team could find. That's it!
Read also: Story of transsexual Nicole and her twin brother Jonas (ru)
Lamar, by the way, is not alien to gender nonconformity. He likes to appear before an audience wearing makeup. He also sings in a rare voice – countertenor and holds exhibitions in New York as he studied sculpture at Yale School of Art. Lamar often discusses issues related to LGBT, but his own orientation remains a secret.
Автор: Sofa Hadashot