There was a time that gay celebrities had to hide in the closet in order to remain in demand. Fortunately, these are different times and even from far away we can watch how these famous persons build relationships with their boyfriends, partners and husbands. So, I would like to give you a brief review and tell about some couples.
Even if in some cases it is not about the couples in which every partner is a celebrity, at least it is about the couples where both husbands and both boyfriends are famous persons. But a celebrity doesn't really have to be in the relationship with someone, who is always in public limelight. There are also those in the list, who are happy to be in the relationship just with regular people.
Miles McMillan (boyfriend of Zachary Quinto)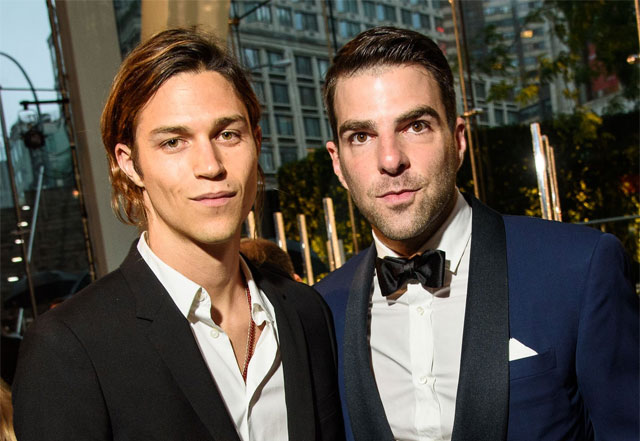 Attention is nothing new for the 24-year-old Miles McMillan as he is one of the 50 best models according to Models.com. Miles has worked together with designers, who need no introduction – Alexander McQueen, Yohji Yamamoto and Karl Lagerfeld and appeared on the covers of various specialized magazines.
In the old days Quinto had a relationship with a fellow actor Jonathan Groff, well-known by his role in the series Looking. However, something went wrong, and they broke up. Nobody knows any details. Hollywood press wrote that the separation wasn't rather nice. And we aren't going to go into the details what we don't know for sure.
Anyway, Quinto was seen with McMillan shortly afterwards. Although, they have been together about two years, the official confirmation of their relationship appeared in Instagram relatively recently after Zachary posted this picture and wrote how he missed his real life baby.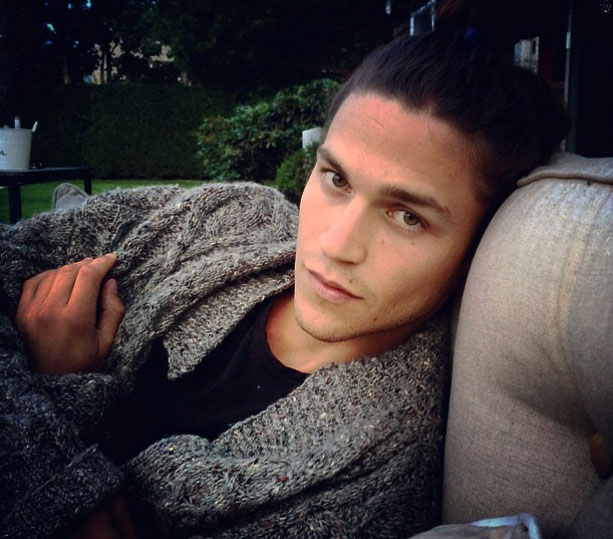 The actor has recently said in an interview that there is a "real connection"between him and Miles; however, this isn't about marriage because "I am ambivalent about marriage". The couple currently lives in a luxurious loft apartment in Manhattan with their cat and two dogs.
Michael Turchin (husband of Lance Bass)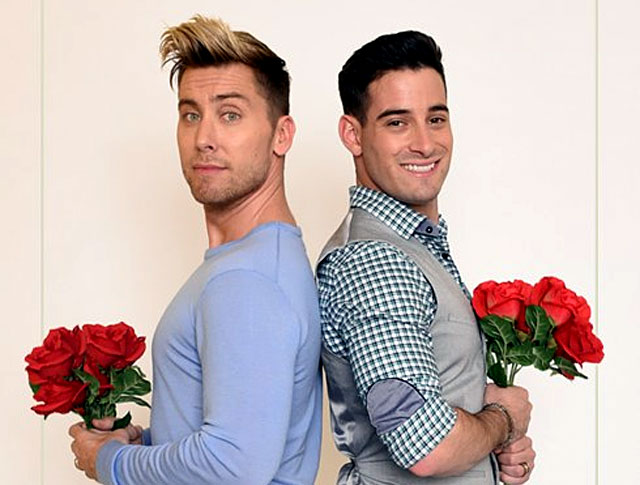 They are really funny. They proposed several times to each other. They were engaged several times before they married publicly. The couple let the TV channel E attend the wedding and film it. Later it provided a basis for the TV documentary. The former NSYNC band member Bass, who grew up in one of the most conservative US state Mississippi, said that if someone had shown him a gay wedding of the celebrities on TV when he was a child, he would have had much fewer problems in his life.
28-year-old Michael Turchin began dating Lance Bass in 2011. He is a painter of pop Art portraits and a film actor. His filmography is not so big, but still.
The couple currently lives in Los Angeles. There are three dogs in their family, but the husbands would like to have kids. Lance was raised in a conservative, Southern Baptist family. Turchin is from a liberal Jewish family. Michael has a twin sister Lauren, who owns the construction company Turchin Companies.
David Burtka (husband of Neil Patrick Harris)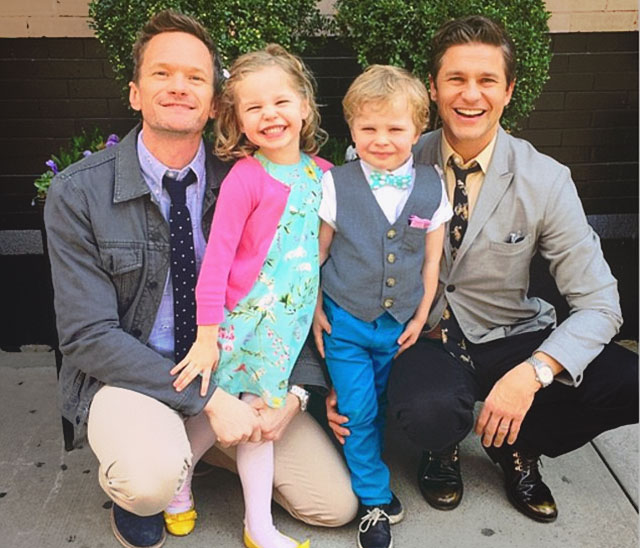 39-year old David Burtka is nobody's fool. Today, however, we know him as the "better half of Neil Patrick Harris". He is a very accomplished stage actor, who played in a number of Broadway plays and took part in different TV projects. In some of them, he appeared together with his husband, for example, in the sitcom How I Met Your Mother and in American Horror Story.
A mutual friend introduced them to each other in 2004. And after a while the actors began dating. Their lives have become rather public over the last years. Everybody knows the husbands have two children, the twins Gideon and Harper, born by a surrogate mother. Neil is a biological father of one child and David of another child. There is no information, "which twin is whose biological child". In 2014 the couple got married in Italy after 10 years of dating. The actors live with their children is a luxurious townhouse in Harlem.
In 2012 David said in an interview, "I don't want people to think we are a perfect couple. Nothing's perfect. A relationship is work and it changes. It's more good times than bad times, but it's not always good. You have to overcome those issues and move on. We're not trying to pretend we are perfect. We're just trying – in a good, positive, loving way – to live our lives".
By the way, David Burtka is a chef. He graduated from the College of Culinary Arts in Pasadena. He runs a catering company Gourmet M.D, which he co-founded with his former female classmate.
Dustin Lance Black (fiancé of Tom Daley)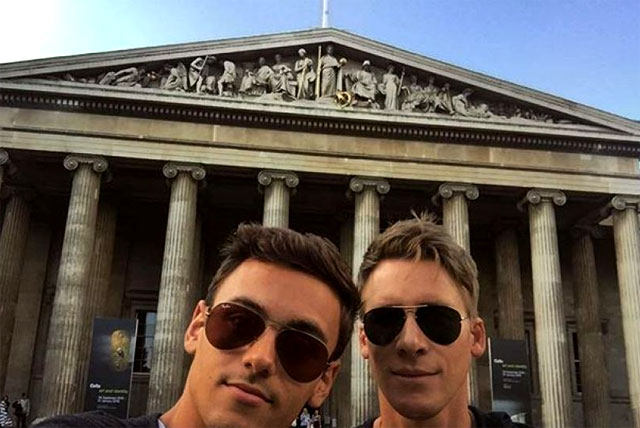 It could be the other way round. Because both Dustin Lance Black and Tom Daley are equally famous. They just work in various areas. 40-year old Black has won the Oskar for best original screenplay for Milk. 20-year-old Daley has won the bronze medal in platform diving at the Olympic Games (let alone many other medals).
Much has been said about how they met, how the relationship began. They also told a lot about it. So, if you want to read more about it, let us redirect you. There you will find much more information about them. The main thing, both are sure that it was love at first sight. Mostly.
It should be only said that Dustin gave Tom much more than just a courage to come out (and an engagement ring last year). "He saved me from giving up diving, said Daley. After the Olympics I was down in the dumps, as it's such a hard way to get back into everything, but he gave me the extra motivation and made me work harder and that is exactly what I need."
Richard Buckley (husband of Tom Ford)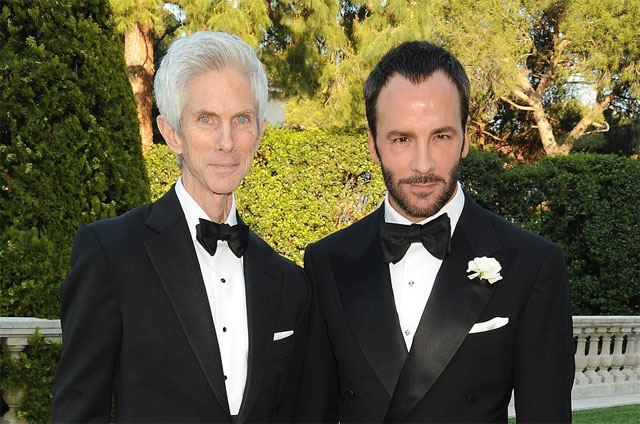 There is another famous couple with a significant difference in age, by the way, not the last one in this list. 66-year-old Richard Buckley, former editor in chief of Vogue, has been in a relationship with a 53-year- old fashion designer Tom Ford for more than 20 years. In the 90s Buckley was diagnosed with throat cancer, and that period was very difficult in their family life.
The men had different views on the issue to have children until Ford has made his mind, "I am going to have a kid," he said in the interview devoted to his directorial debut with A Single Man. Richard knows that I have wanted it for so long. But he's just resisted it. He would be a spectacular father. It's going to give his life new meaning."
Today the couple has a son, Alexander John Buckley Ford, who was born in 2012. The family lives mainly in Italy.
Simon Halls (husband of Matt Bomer)
Even though 37-year-old Matt Bomer publicly came out only in 2012, he has been married to a 51-year-old publicist Simon Halls since 2011.
The star of White Collar and other series and films raise together with his husband Simon three sons, one of them is eight years old, and the twins are six years old.
Being one of the favourites of the queer public, Bomer is a public figure. People keep a close eye on his successes, his appearance on screen, and on the covers of the magazines. People talk about Halls much less. Actually, he is rather an influential man in Hollywood, co-founder of the agency Huvane Baum Halls, which represents more than 140 000 actors, directors and producers.
Jason Landau (husband of Cheyenne Jackson)
Landau is the second husband of the actor Cheyenne Jackson, who has started his career on Broadway and now can be seen more often in films and on TV. For example, in above- mentioned American Horror Story alongside Matt Damon.
37-year-old Jason Landau and 39-year-old Cheyenne Jackson met in rehab as they sought treatment for alcohol addiction. Problems with alcohol got worse when Cheyenne divorced from this former husband, physicist Monte Lapka after being together more than 12 years.
"We got sober together, tells Jackson about his husband. "Now we sing and we dance together". They had a stormy romance. The engagement was announced half a year after Cheyenne's divorce. They married in 2014. And they are doing well because according to Jackson "we just found each other at a time in life where it just… I can't even really put it into words. It just is. Sometimes things just are and he's an amazing person."
Jörn Weisbrodt (husband of Rufus Wainwright)
At the beginning of December 2010 a famous Canadian-American singer Rufus Wainwright married a German Jörn Weisbrodt with whom he raised a daughter by that time. Jörn is art administrator. He is the current artistic director of the Luminato Festival in Toronto.
Before the wedding Rufus said in the interview to Vanity Fair that he thinks to legalize his relationship with the partner because "it is hard when you're a celebrity and your significant one isn't. According to the musician, he proposed to Jörn in an Indian restaurant, just saying, like, "Will you marry me?" Next day the couple bought wedding rings.
The heiress of Rufus and Jörn is Viva, whose mother Lorca is the daughter of the famous musician Leonard Cohen. Rufus and Jörn are in a "parenting partnership" with Lorca Cohen.
Thomas Dozol (partner of Michael Stipe)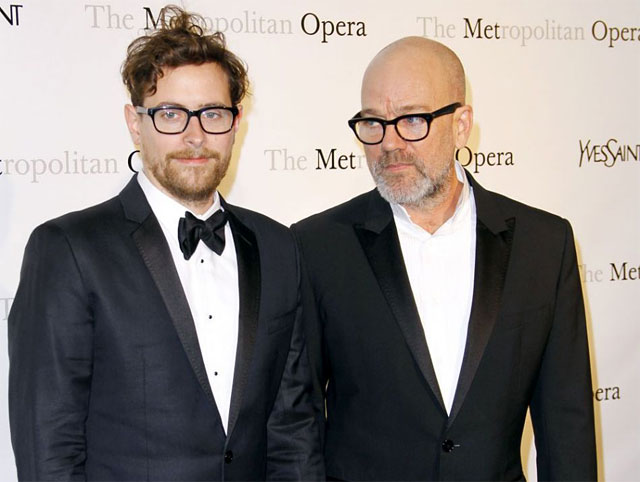 The funny thing is that Michael Stipe, an A-list celebrity and a person, whose name goes down in history of rock music, isn't being often bullied by the homophobic print media. Anyway, the lead singer of the band R. E. M. lives together with Thomas Dozol. Thomas is a photographer, his works can be found on his website.
Dozol, born in Martinique, shares with Michael a loft in New York decorated by his photographs and unusual art works.
Justin Mikita (husband of Jesse Tyler Ferguson)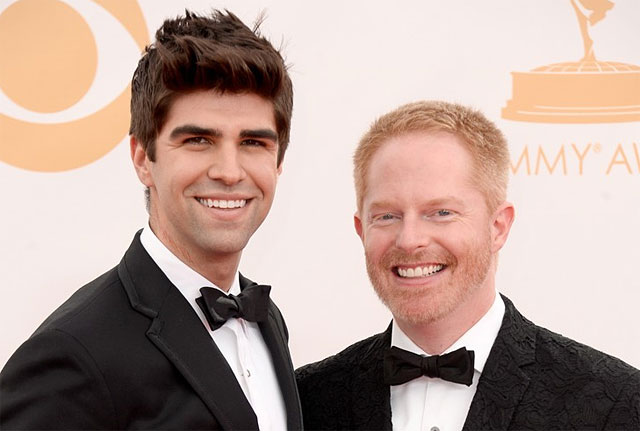 29-year-old Justin Mikita married a 39-year-old actor Jesse Tyler Ferguson, who played in Modern Family, in July 2013. Tony Kushner, the screenwriter of the film Lincoln which won 2 Academy Awards, officiated at their wedding.
In an interview Fergusson said that he met his future husband at a gym, "But we always tell people it was through some mutual friends."
Justin Mikita is a very talented person. He is a writer, creative director and designer. He is a lawyer by profession. It is funny because his husband plays a role of a lawyer in Modern Family.
The pair was very active in the struggle for the same-sex marriages. They co-founded TieTheKnot.org, a foundation promoting LGBT rights. The wordplay was that Jesse and Justin designed fashionable bow ties for sale which should be "knotted"on the neck, meaning to "tie the knot" with one's husband. The funds went to LGBT organizations, fighting for the marriage equality.
Lance LePere (husband of Michael Kors)
55-year-old world known fashion designer Michael Kors met 43-year-old Lance LePere in 1990, when he started work for Kors as an intern. Twenty years passed, and the couple tied the knot in 2011 in the state of New York.
LePere is a current creative director of women's design at Kors. In general, if there is a lesson to be learned from this story, it is to listen to your professor telling that an internship is good for the students.
Scott Gill (husband of John Barrowman)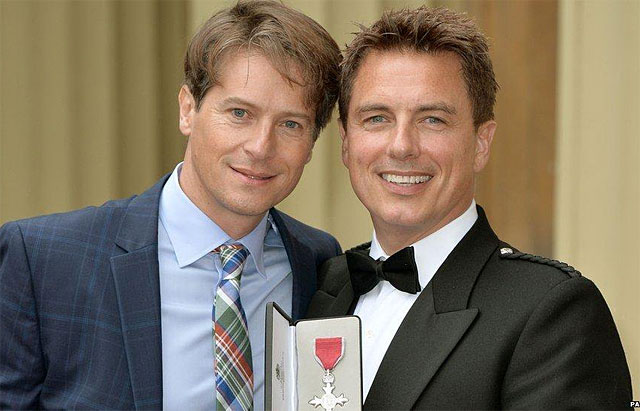 They say the opposites attract. And that is exactly the case of the Torchwood star John Barrowman and his husband Scott Gill (they have been together for 20 years). John is dashing and even cheeky to some extent, while Scott, an architect by profession, is rather shy.
The pair met in 1993. Scott saw John performing and thought, "That's the guy I would like to have a relationship with." There was a seven minute scene in the play where Barrowman and other men actors were naked. Who knows, maybe this scene made Gill think like that?
According to John, "Scott has a body like a model and an impressive donkey-like attribute". We just have to take his word for it.
They entered into a civil partnership in 2006 in Great Britain. Scott and Barrowman were legally married in 2013 in the state of California.
Benjamin Maisani (boyfriend of Anderson Cooper)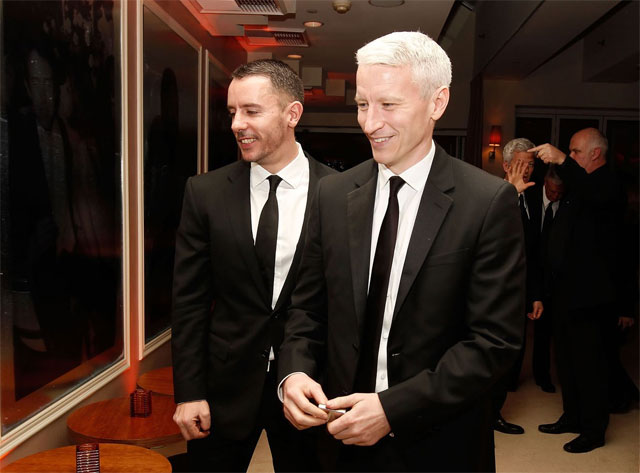 People awaited Anderson Cooper, famous American journalist and television personality, to come out many years. It was exactly the case when everyone knows, but there is no official confirmation from the star himself. Finally, Cooper heeded the request of the public and said it out loud, yes, he is gay.
Benjamin Maisani has been in the relationship with Anderson for five years now. He prefers to keep a low profile because he doesn't like too much attention, saying that he hasn't ever wanted to be famous.
Maisani came to New York from Paris in 1995. He graduated from an art college with a B.A. in art history. Then he worked in a museum briefly. Maisani soon realized that nightlife attracts him much more. He started as a barman at Barracuda and finally opened his own bar Eastern Bloc in Manhattan. It was back in 2005. Since then, he has opened two more bars and now he is a co-owner of three bars.
Garry Janetti (fiancé of Brad Goreski)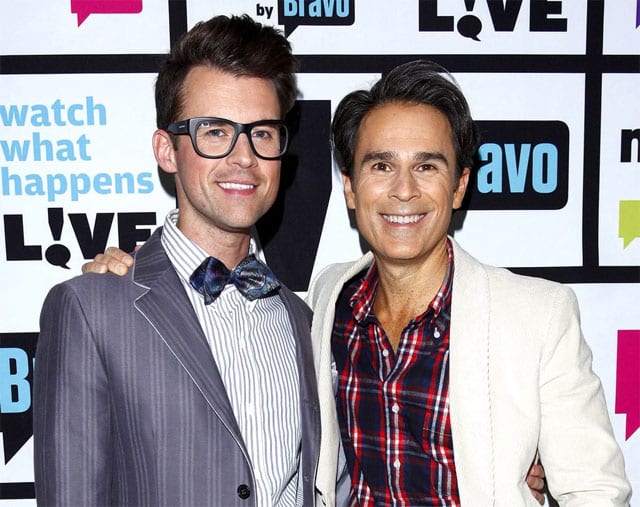 Brad Goreski is one of the most famous celebrity fashion stylist of America, participant of the reality show The Rachel Zoe Project and fashion designer, who is very much in evidence. As to his fiancé Gary, he is not so famous, nevertheless, he is no stranger to the world of cinema.
Janetti was the executive producer of the momentous series Will and Grace. He is also known for the sitcom Vicious, where Sir Ian McKellen and Sir Derek Jacobi play an elderly gay couple, who adores each other and still always quarrels. Brad and Gary live together in Los Angeles with their dogs Penelope and Alice. The couple met in Greece.
Todd Spiewak (partner of Jim Parsons)
Sheldon Cooper of The Big Bang Theory needs no introduction. This character is apparently asexual, but the actor Jim Parsons playing this role, not at all.
This partner Todd Spiewak is a graphic designer, who has worked with companies like American Express, Barnes & Noble, and many others. The guys have been together for 12 years, but still don't have any plans to get married. "I don't know," answered Jim the relevant question at the show Ellen. "You get so used to your life as it is."
However, nobody is going to split. Todd and Jim are happy to be together. They have recently co-founded the production company. The actor said about his relationship with his partner, "I've never considered my relationship with Todd to be an act of activism. Rather simply, it's an act of love, coffee in the morning, going to work, washing the clothes, talking the dog out – a regular life, boring love."
Richard Cullen (partner of Darren Hayes)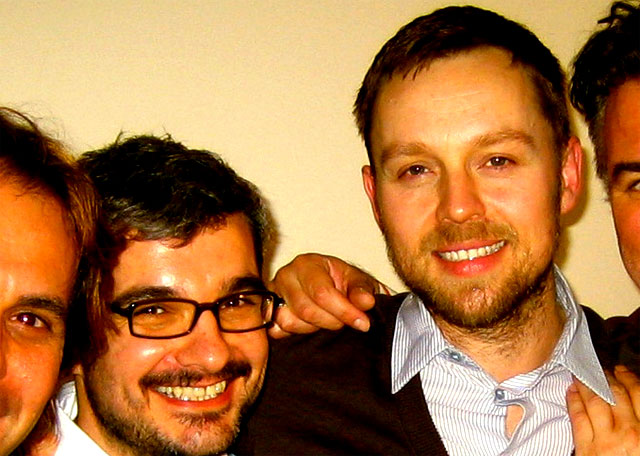 The Australian musician Darren Hayes, 42, the frontman of Savage Garden has kept silence about his sexuality for a long time. All changed in 2006 when he married (via a civil partnership) Richard Cullen in London and announced it on his website. Since then Darren has become an activist for the marriage equality.
Richard, a citizen of Great Britain, can come to Australia only on a guest visa. "It makes me angry and frustrated", Darren said. "I am Australian and the way the law is, I can't bring my partner home as my partner." Because same-sex unions aren't still recognized in Australia.
Richard Cullen is an animator. He contributed much to Darren's creative projects, for example, he designed Darren's solo CD covers and produced his films.
Grant Shaffer (husband of Alan Cumming)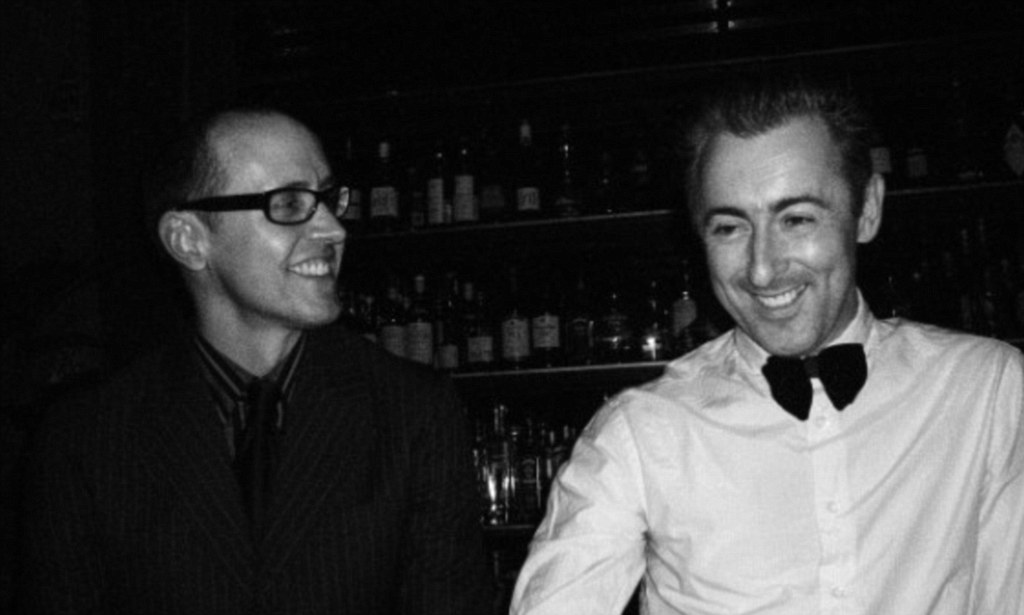 Shaffer, an American graphic artist, is the husband of Alan Cumming, a Scottish actor, who identifies himself as bisexual, not as gay. It is important for him not because "what do people think about him". What can homophobes think about a man living many years with another man? Thus Cunning insists on that bisexuality exists.
Grant and Alan entered into a civil partnership in Great Britain in 2007 after dating 2 years. In 2012, on the fifth anniversary of their union, they remarried in New York.
It's Cumming's second marriage. In 1985 he married actress Hilary Lyon, the marriage lasted eight years. Then Alan had a two-year relationship with actress Saffron Burrows, who is also bisexual. When they split up, Cumming focused on men. Six years he lived with theatre director Nick Philippou. But he was ready to marry again only when he met Grant Shaffer.
And by the way, Alan's former girlfriend, Saffron Burrows has also tied the knot. She is married to the woman Alison Balian, a writer and producer.
Brad Altman (husband of George Takei)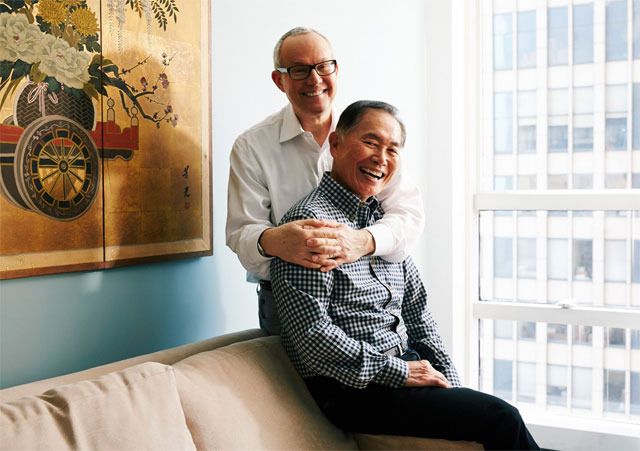 60-year-old Brad Altman isn't just the husband of Star Trek star George Takei, he is also his business manager. The couple had lived together for 27 years before they could get married. George and Brad were one of the first same-sex couples to solemnize a marriage when it became possible.
Altman was born in Phoenix, Arizona. He graduated from a university in California, where he studied journalism. Attending the theatre was one of his main hobbies, so it's not a surprise why he has committed himself to the actor.
George and Brad is a real model of an elderly same-sex couple. They spent most of their life together. They are full of ideas and keep promoting the rights of LGBT people.
Brunson Green (boyfriend of Jason Collins)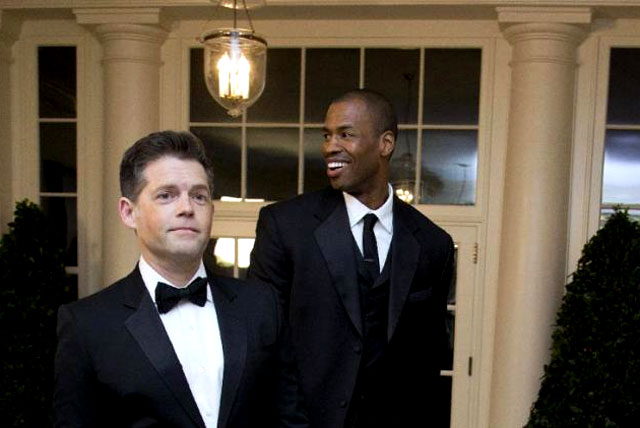 35-year-old Jason Collins, first openly gay NBA player keeps a low profile on his personal life. However, he doesn't hide the fact that he is dating a producer Brunson Green. There isn't much information how their romance began. The pair met at the housewarming party of a mutual friend. But at the time Collins was dating somebody else.
After a while the basketball player was single and again met Brunson at a party. "Next day he was leaving for Europe. But while he was gone, I was asking everyone: Have you heard of this guy? The background check."
Evidently, it worked, because Jason and Brunson have been together ever since.
Jeremiah Brent (husband of Nate Berkus)
43-year-old Nate Berkus is a famous American interior designer and television personality, who was a regularly featured guest on The Oprah Winfrey Show. In May 2014 Berkus married a fellow interior designer Jeremiah Brent, the owner of the company Jеremiah Brent Design. According to the bio of Brent, he works on home interiors as well as major nightclubs.
The guys aren't uncomfortable with public attention and they became the first same-sex couple to appear together in the advertisings for Banana Republic, the major company selling clothes, and in the magazines InStyle and Rolling Stone. Their daughter, Poppy Brent-Berkus was born in March last year via a surrogate (headline picture).
Elliot Spencer (husband of Stephen Fry)
We have written a lot about this couple (let alone the articles about Fry, who is a man of great calibre himself). Stephen, 57, and Elliot, 27, married in Norfolk last year. A small Oscar Wilde doll attended their wedding, as a witness, apparently.
Although the press is closely following the couple, it is not much known about a stand-up comedian Elliot Spencer. He is a big music fan, of Morrisey in particular. The main thing about him is that Spencer helped his husband to feel happy again. And that's a great merit.
Other gay celebrities who are in a relationship
Actor, writer and producer Dan Bucatinsky (right) with husband Don Roos and children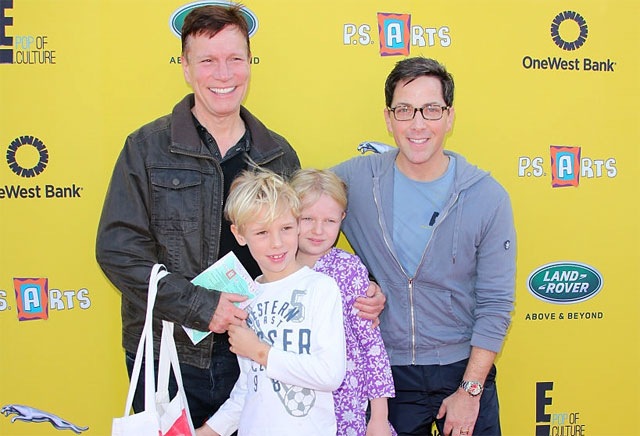 Actor Denis O'Hare (right) with husband Hugo Redwood and son
Actor Alec Mapa (left) with husband Jamison Hebert and son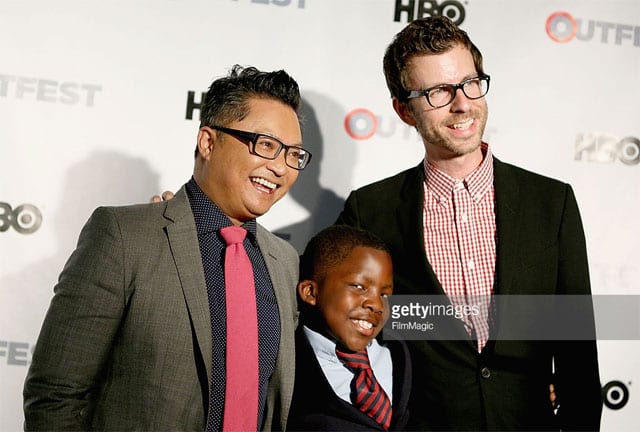 The President of the Directors Guild of America Paris Barclay (left) with husband Christopher Mason and children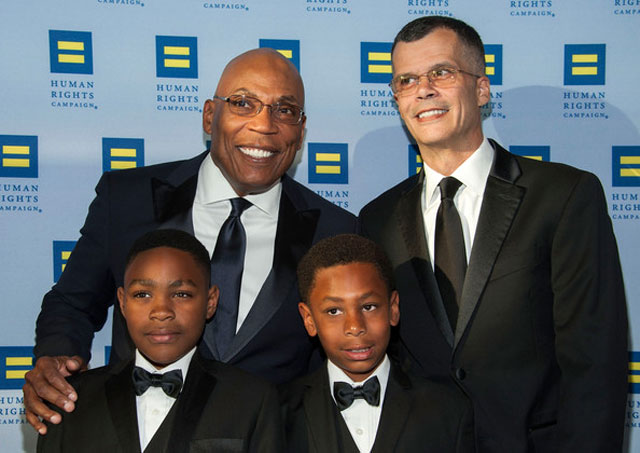 Actor Chad Allen (right) with partner Jeremy Glazer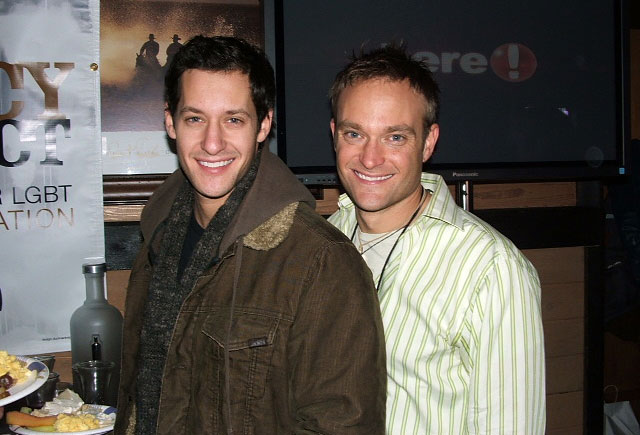 Singer-songwriter Anthony Callea (right) with husband Tim Campbell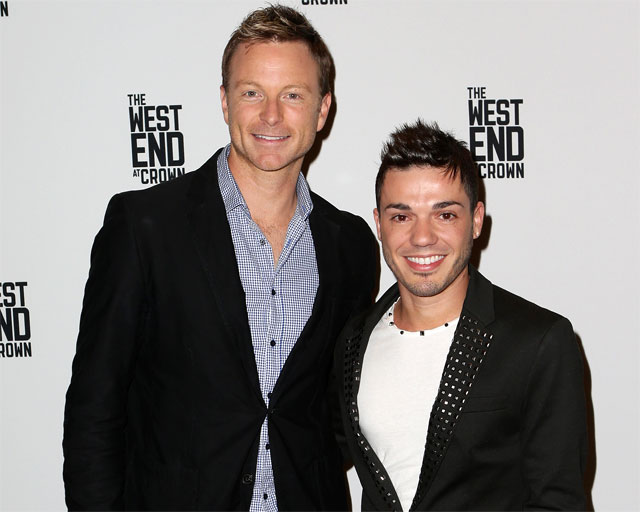 Actor David Hyde Pierce (left) with husband Brian Hargrove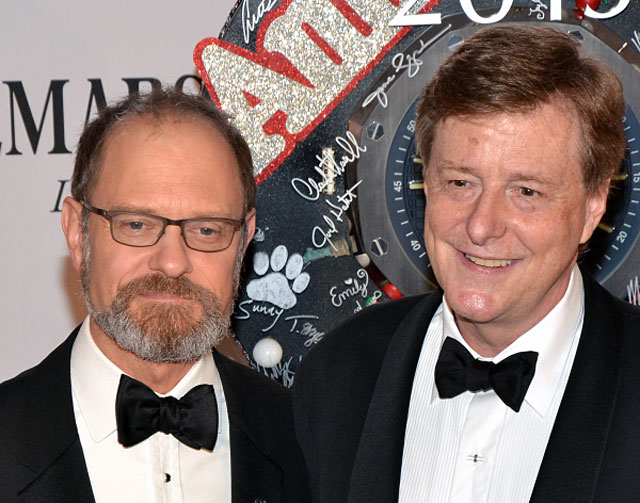 Actor Matt Dallas (right) with husband Blue Hamilton and son
Writer Armistead Maupin (left) with husband Christopher Turner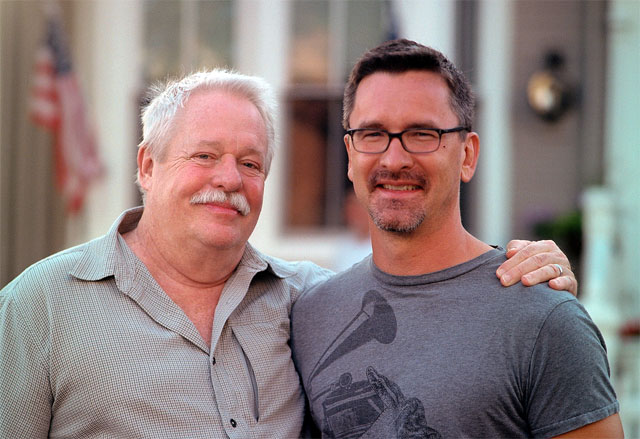 Member of the boy band New Kids on the Block Jonathan Knight (right) with his partner Harley Rodriguez
Actor T. R. Knight (left) with husband Patrick Leahy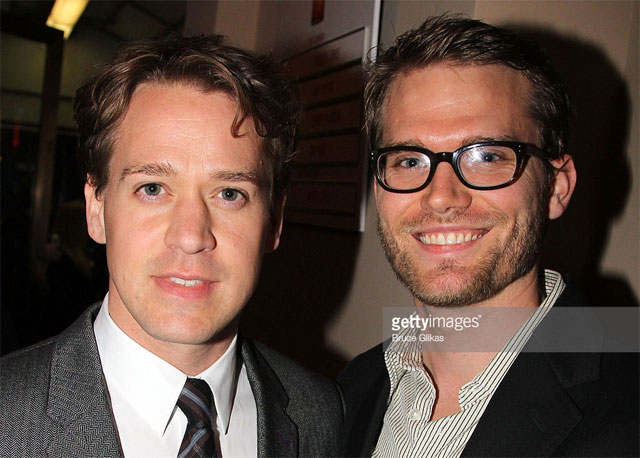 Actor Victor Garber (right) with husband Rainer Andreesen
Actor Sean Hayes (right) with husband Scott Icenogle
Boxer Orlando Cruz (left) with husband José Manuel Colón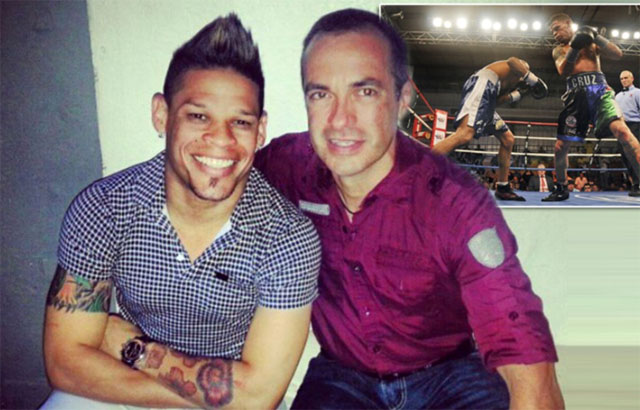 Rugby player Gareth Thomas (rights) with his partner Ian Baum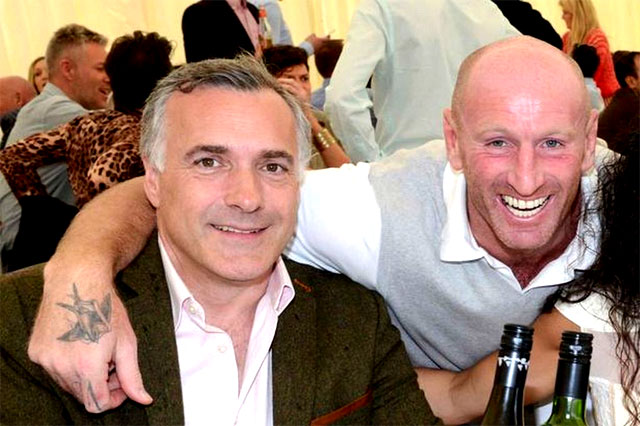 Freestyle skier Gus Kenworthy (left) with his boyfriend Matthew Wilkas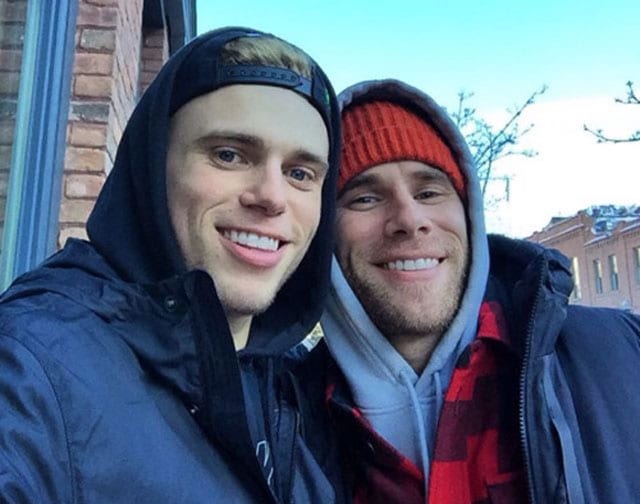 World champion, figure skater Eric Radford (left) with his partner Normand Piché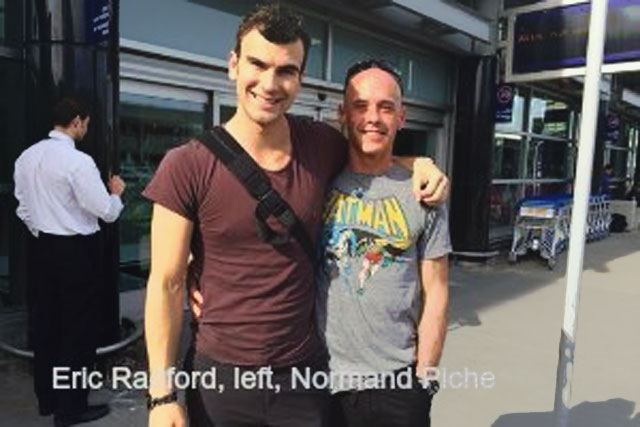 And finally
Elton John with husband David Furnish and children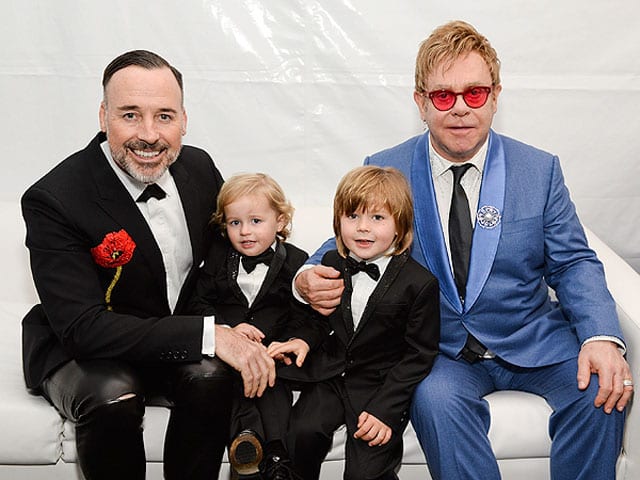 Автор: Sopha Hadashot