"Tesak's daughter" moved to Ukraine to organize "safari" hunting on gay people
An infamous Russian neo-Nazi Ekaterina Zigunova (aka Logunova), against which criminal cases on hooliganism and robbery were initiated in Russia, fled to Ukraine, where she is planning to start "hunting" gay people and "pedophiles".
Zigunova moved to Ukraine in February this year, and she considers herself "political refugee" escaped from the Putin regime. "In Russia you will not be prosecuted only if you are: 1) "Vata" [T.N. – Also "vatnik" – Internet meme, slang and neologism in Ukrainian and Russian languages indicating an ignorant person of (post) Soviet mentality. In the original meaning, vatnik (also telogreika) is a cheap cotton-padded jacket.] 2) Liberal, queer or pedophile 3) Drug dealer", – told Zigunova in her interview for periodics BesTToday. The nationalist was satisfied with Kyiv. "It's a beautiful city, prices are considerably lower and there are no "khaches"[T.N. – "khach" or "khachik" are offensive, ethnic slur commonly of any person native to the Caucasus region (Georgian, Azerbaijani, Chechen, Armenian, Abkhazian, etc.) originated in a common Armenian male given name Khachik]", – she observed.
Zigunova is a faithful follower of neo-Nazi Maxim Martsinkevich [T.N. – he is also known as Tesak aka "Machette", "Hatchet", "Hand Axe"], the founder and main ideologist of the infamous movement "Occupy-Pedofilyay", and she is not planning to sit idly in Ukraine. Young woman has already announced that she is going to renew her "social activities".
"I am planning to continue my activities within fishing for pedophiles in Kyiv. So we need "baits", girls under age of 12, boys – under 15, with parental consent!", – heralded Zigunova on her page in the social network VKontakte, wherein has already started recruiting adolescents for "catching pedophiles" on "bait".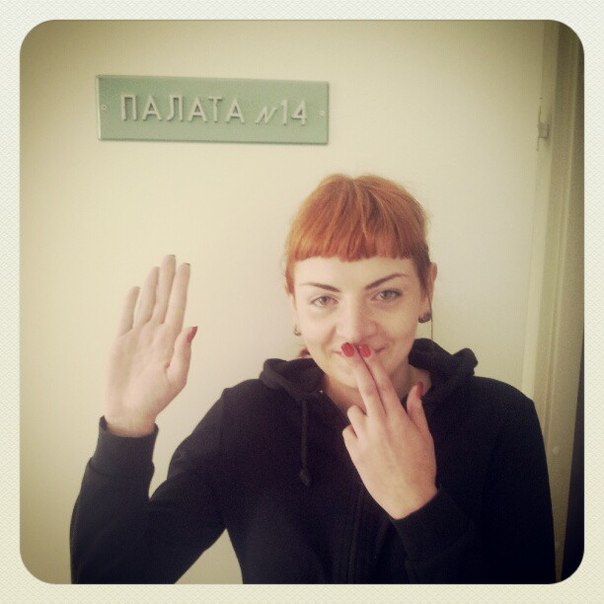 Zigunova, being a native of St. Petersburg gained her nick-name "Tesak's daughter" at one time initiated the creation of the St. Petersburg's branch of "Occupy-Pedofilyay" movement and, according to Meduza, was the coordinator of all regional groupings of Martsinkevich, which in August 2014 totaled in up to 40.
All members of "Occupy-Pedofilyay" acted as follows: participants of the movement under the guise of fighting against pedophilia got acquainted with homosexual men via internet, then agreed on personal meetings, and afterwards attacked them. They bullied and abused their "suspects", made them posing with rubber phallus, painted them with "zelenka" [T.N. – "viride nitens" – antiseptic and disinfectant of the intense green color, which is very difficult to wash off] and poured urine on them. Were practiced extortion and robbery. Young people filmed everything that happened and then uploaded videos to the Internet.
On one of such videos Zigunova dressed in camouflage holding machine gun in her hands declares: "Pedophiles and f*cking queers got out of hands. Pedophiles and f*cking queers really ofigeli. They climbs out to the Palace Square with their flag of tolerance, they coordinate their demonstrations. We decided to arm ourselves with somethingbesides the rubber dildos".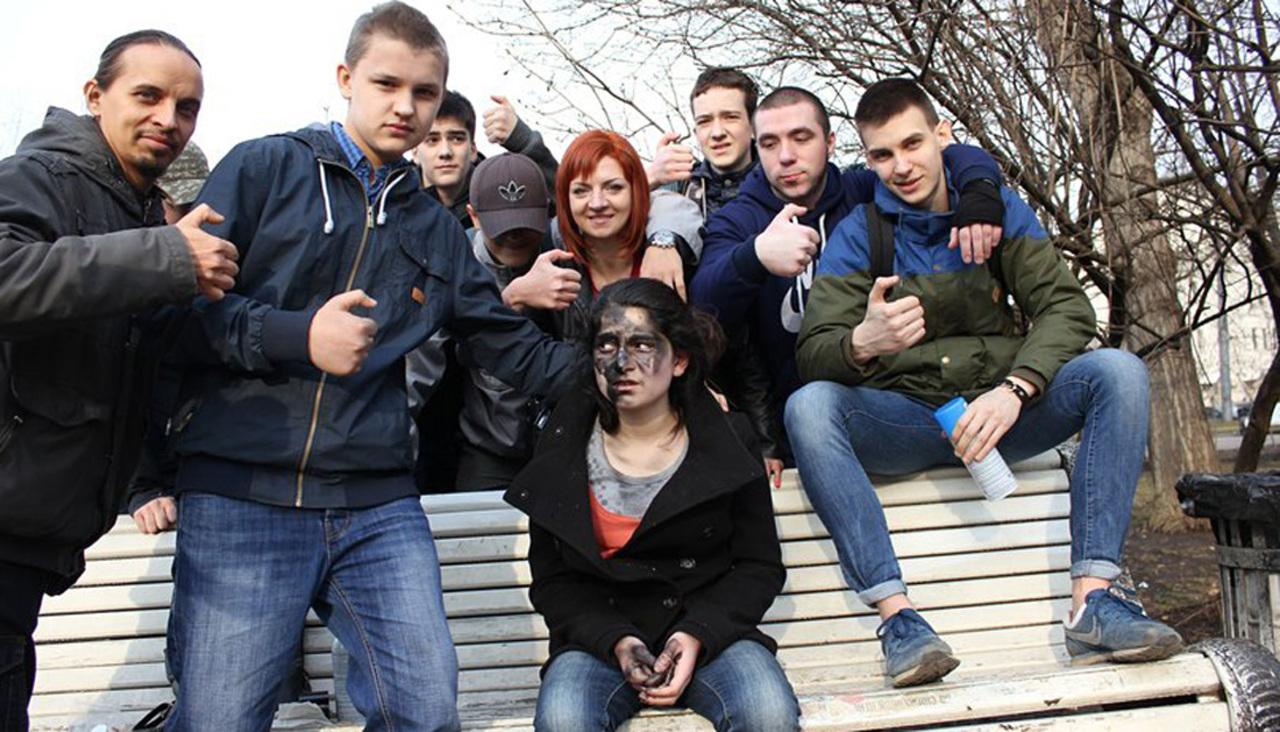 Tesak has turned "hunting on pedophiles" into actual business – with advertising and selling tickets to such "safari", opening new branches (groupings) and developing new activities. In their videos they advertised bioadditives, clothing with Slavic symbols and pyramid schemes, to work of which Martsinkevich himself was involved. According to Tesak, during the time of existence of "Occupy-Pedofilyay" movement he personally caught more than a hundred "pedophiles", while members of the organization – more than two thousand.
In August 2014 Maxim Martsinkevich was convicted for the extremist videos for five years in prison, a movement "Occupy-Pedofilyay", which came to police's attention, afterwards announced their voluntary dissolution. However, there are still attempts to renew its activities in one form or another.
Автор: Kolya Camouflage