Nayyem and Zalishchuk apologized for not being able to vote for non-discrimination clause in Labour code
Many pro-European Ukrainians were outraged when on the 5th of November deputies refused to include a non-discrimination clause in Labour code (also on the grounds of gender identity or sexual orientation), whereas this is a precondition for the introduction of visa-free travel to the EU.
People were particularly disappointed that even most deputies from the parliamentary group "Euro optimists", whose aspirations, one would think, are not to be questioned, did not vote in favour of the clause. That day some of them were absent from the session at all.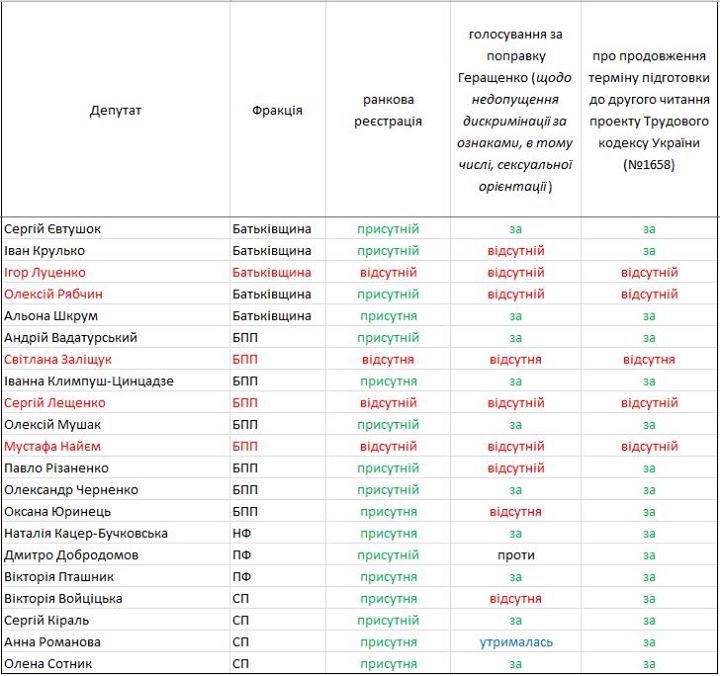 Deputies' names marked in red were absent.
After a barrage of criticism against them, some of "euro optimists" who had not voted for the inclusion of a non-discrimination clause in Labour code, decided to apologize.
"I sincerely apologize to my electorate for my absence from yesterday's session of Verkhovna Rada, and for that I could not vote for the clause in Labour code which prohibits employment discrimination. If I were in the session hall, for sure, I would vote for this norm. This week I have prioritized my work in the parliament differently, and I am ready to take responsibility for that", wrote Mustafa Nayyem, the Member of Parliament for Petro Poroshenko Bloc on his Facebook page.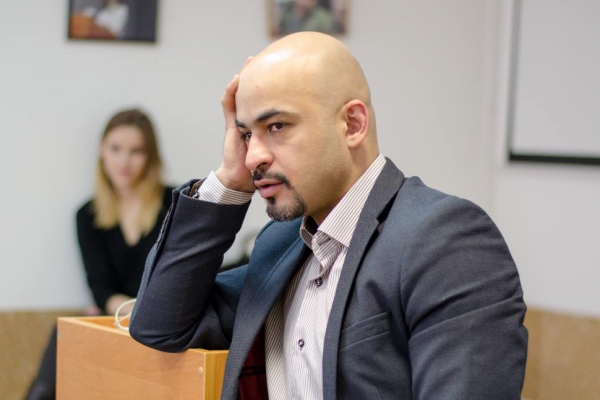 He underlined that introduction of this amendment at the session on the 5th of November did not conform to the regulations of Verkhovna Rada and gave his word that he personally would propose it in the relevant committee. "Parliament may not amend the text of the law (what is more, by ear), which has not been adopted even at the first reading. It is only possible at the second reading. THAT IS WHY I MYSELF WILL PROPOSE THE AMENDMENT, which prohibits employment discrimination in the committee, and I will do my utmost in order the parliament would adopt it", promised Nayyem.
At the same time, the deputy insists that the parliament is not responsible for the failure of the visa-free regime with the EC. "It is nonsense which the Presidential Administration, Prosecutor General's Office and Ministry of Foreign Affairs try to impose on the society. I am familiar with verifiable details of this process to claim that. It is a banal attempt by executive authority and by diplomats to shift the responsibility on to collective body", he stated.
"I should apologize to the electorate and friends, who fight regarding this not an easy issue. There is a lot of criticism on the Web that we, euro optimists were not in the session hall when they voted on that amendment. One should acknowledge mistakes. We have not mobilized at a crucial time", wrote Svitlana Zalishchuk, the Member of Parliament for Petro Poroshenko Bloc on his Facebook page.
She assured that she had planned to introduce the amendment in the relevant committee before second reading. "When I started to pursue this issue last spring, it became known, that Labour code had been already filed WITHOUT THE REQUIRED NORM. Then together with experts and LGBT activists we prepared the amendment. I planned to introduce it between first and second reading. As it required by the regulations", told Zalishchuk.
"Against all odds. The fight is not over. Now it is possible to introduce amendments between first and second reading. We are all together should go to the relevant committee. We should fight for the second reading", she added, noting that she planned as before to focus on combat discrimination in public.
"Someone I care about wrote that "is disappointed" because we "failed". Yes, it hits one where it hurts. It is probably the most what one should be afraid of, to disappoint people who believe. We are not saints, we are people. We make mistakes. It is important to learn from one's mistakes", concluded Zalishchuk.
Автор: Kolya Camouflage