Voices of LGBT community at the "Week of a topical play"
The sixth drama festival "Week of a topical play" announced the shortlist of literary writings of the competition suitable for staging. The play "Ouroboros in "Orient Express" by Oles Barlig made the shortlist. It will be presented among other literary writings in Kyiv in the form of stage readings.
"Ouroboros in "Orient Express" is a semi-drama, where the author addresses the most heinous cases of homophobia recently happened in Ukraine. To make the picture complete Oles Barlig talked to the participants of several situations symptomatic for our society, and included their stories in the artistic interpretation of the problem of intolerance.
For example, there are comments of two LGBT activists Zoryan Kis and Tymur Levchuk, who took a one hour walk around Kyiv holding hands. The participant of KyivPride Nikita Storchay remembers being beaten up by the right-wing thugs during the March of Equality. The president of a charity fund Gender Zed Rostislav Milevskyi describes the scandal broke in Zaporizhia, when a leader of the local orthodox church addressed the city major with a request to remove a tolerance-oriented social advertising.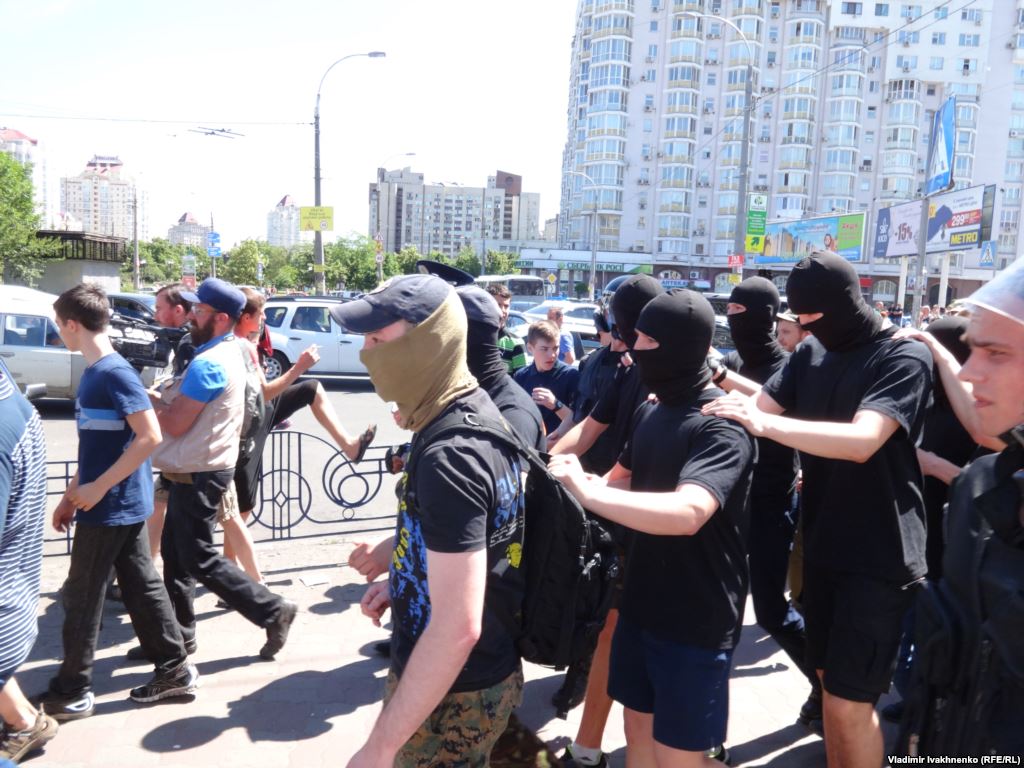 Extreme rightists during the March of Equality
"The play centers on the problem of homophobia. I think, a text with a lot of reflections on someone not understanding another one and discriminating against is not very interesting. That is why I focus on the Ukrainian LGBT within latest social processes, such as Revolution of Dignity, ATO, volunteer movement, mental desovietization, dependence of media from the opinion of a common man", the author notes.
Along with words of the LGBT activists Oles Barlig included in his play a fragment of a controversy characterised by a high degree of homophobia. The heated argument arose in a public of a sociopolitical female blogger Anna Amargo, after she had expressed her support for KyivPride. In the last scene we can see the poet Vitalii Yukhymenko acting as one of the characters.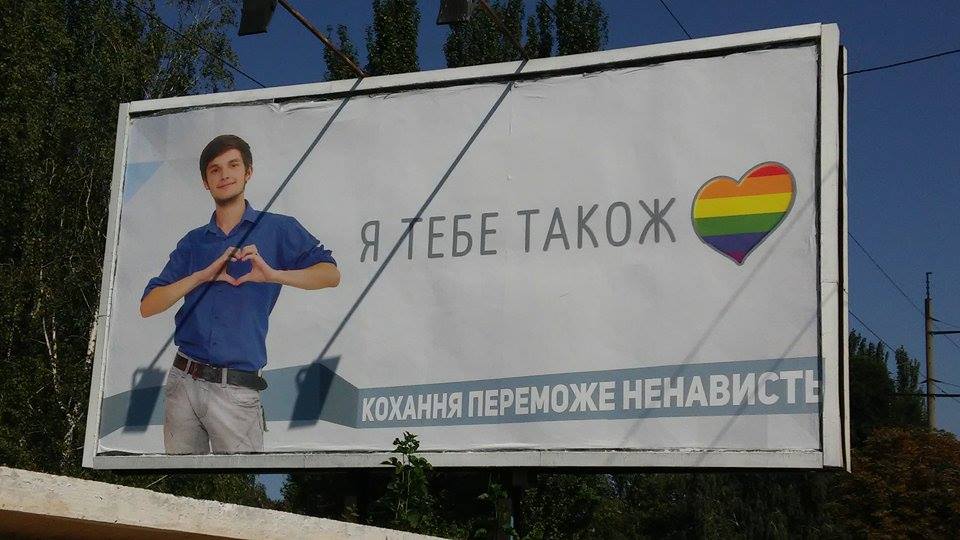 One of the billboards of the campaign "Love will win over hatred"
"Orient Express" is a symbol of an archaic comfort from one side and anxiety and a collective guilt from another side, thanks to Agatha Cristie. Ouroboros loops this situation in order it occurs again and again, until the society solves it for itself. The poem of Vitalii Yukhymenko in the last scene is a very important part. It seems this text plays to the homophobic views, but actually it satirizes them. A homophobe is a blind man in this poem, being unaware of own absurdity", explains the playwright.
The table reads of the festival "Week of a topical play" will be held from 14th to 23rd November. The winners will be decided based on the results of the table reads. The winners will get an opportunity to put the play on a Kyiv stage and get financing.
Read also: Iryna Shuvalova and Oles Barlig: The voice of the very LGBT community is lacking
Автор: Kolya Camouflage