The mother of the activist injured during KyivPride: after my son was beaten up, I had to get used to his face
The volunteer of ATO and civil activist Olga Storchai, whose son was beaten up at the Kyiv Equality March, told about the consequences of her child injury and her rueful feelings about it in the interview with Hromadske radio. "He followed his heart and went there (to the Equality March – editor's note). Just because he wants to advocate the rights of the LGBT people. What happened later was very difficult for me. He was beaten up. They broke his nose, and the nose form hasn't been restored yet. It took me a lot of time to get used to the face of my child", said the woman to the journalists.
Read also: One of the participants injured at the Equality March will need to undergo surgery (ru)
After the beating her son Nikita needed to undergo surgery – his nasal septum was taken out because it hindered breathing. "To restore the nose, he will need to undergo a plastic surgery when he turns 18," Olga adds.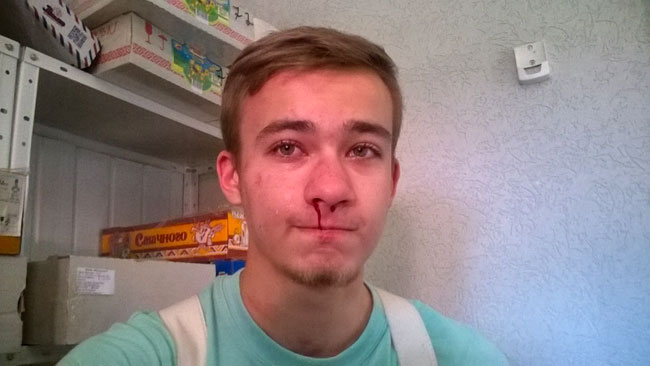 A lot of people felt really sorry because of the attack on her son and offered help, Olga recalls.
Unfortunately, there weren't any legal consequences as the family decided against reporting the attack to police for reasons not allowing them to participate in a judicial process.
Read also: The Equality March case in the court: about "hysterics of LGBT", gays in the ATO, and a penalty for the violence (VIDEO, PHOTO)
Despite all that has happened, Olga entirely supports the desire of her son to take part in the LGBT movement and crusade for the equal rights for everyone regardless of sexual orientation and gender identity. She says she got to know that her son was gay when he was 14.
"He came from school and just cried; even though, he is a very strong personality. He said he had come out to the guy at school. They hurt his feelings. And he felt terrible. When your child feels such a pain, you can't think about yourselves. I told him that I was with him, we were a team, and everything would be good, though, I was sick at heart", Olga reveals.
The woman notes that homosexuality is an innate characteristic, like left-handedness or skin colour. "We should fight for the rights of our children. People don't suffer in all civilized world as much as here," she underlines.
Real also: The important thing that he is happy. The mother of the LGBT activist tells about her gay son (ru)
Olga currently is the participant in the parents' initiative Tergo . This is the organization of the parents, whose children are gays, lesbians, bisexuals and transgender. The parents have accepted own children and advocate for their right to live a happy life.
Автор: Kolya Camouflage